6-months in South-East Asia: Essential Travel Checklist [Digital Nomads]
I was heading to South-East Asia for a 6-7 month's long trip, this post depicts my travel checklist.
I only wanted to use cabin hand luggage as more practical and quick.
So, I purchased a very small backpack (36L) (see below in the list which model I purchased) and tried to stay within a 7 Kg max total weight, being this AirAsia's, ridiculous, hand baggage allowance
Also, this is mostly a MALE travel checklist but you can read about the female version of the 7 Kg backpack here.
If you don't wanna read the introductory part (not recommended as I think you could learn some stuff), click here to jump to the section where I list all the essential items to bring in your 7 Kg-max backpack if you are a digital nomad.
What other blogs write about travel essentials
Initially, I was packing my backpack pretty much as everyone would do nowadays. Looking around to see what you already have, brainstorm, write an initial travel checklist, reading guides/blogs, completing it… and then try to fit all the monkeys into the best-rated backpack that would fit into the aeroplane hand luggage cabin.
I read a lot of advice and "ultimate travel checklist" from many smart people and tough travellers…. but, IMHO, they all miss an important point in their super exhaustive posts and lists. I explained that point on in this post.
In short (and maybe exaggerating a bit :))… they all advise you to bring:
any artefact that would allow you to stay alive in case of the end of the world (ie. water purification pills, swiss knife, ultra-tech headlight,…)
A huge amount of Toiletries as you had to win a beauty contest(perfumes, deodorants, razors, personal hygiene stuff,…)

any object that would avoid you to get into trouble in the unknown world (Asia) (ie. mosquito net, hand sanitizer, poncho,…)
a whole set of objects that they tell you is at the core of your needs when travelling (GPS, smartphone, lonely planet,…)
a whole pharmacy... so to avoid dying on a street corner (plasters, anti-malaria pills, disinfectant,…)
super-duper-powerful thermal, water resistant, windproof and ultralight clothes
a bunch of "organizers" were to fit all the useless stuff above 🙂
My point is very simple…
… if you follow each and every group of their travel checklist you will certainly survive, but just that.
You won't live your journey.
You won't be your journey,
nor it will transform or change you
as you will just bring all your comfort zone with you!
I wrote an entire post just about that, about the Aha! moment I had while packing this backpack and why I consider its conclusion as THE most important thing when creating the checklist for such travel.

If you don't want to read the above-linked post, in short, what I found out is that you should stop forward-thinking while preparing your backpack. Don't try to forecast what could happen and pack an object to possibly mitigate that event…. this will just make you become more stupid and more dependent on an easy pill.
Instead, make your brain working to solve the problem and/or get in touch with locals and scan the local environment to find a solution.
My minimal packing list for South-East Asia
The big issue was that to travel by plane with AirAsia, luggage needed to be less than 7 Kg in total. Also, it didn't help the fact that I am a digital nomad, so you need all a bunch of equipment to be able to work (laptop, charger, business cards, backup drive, documents,…) that you don't need if you are just living a 10-days holiday.
I thought that to prepare such minimal backpack, "just" required me to solve a bunch of practical problems: space, size, selection, weight, etc. and I thought I had the basic skills to solve them: strict decision-making process, strong imagination, creativity, troubleshooting,…. I was so wrong :).
A mixture of the above and my rationalism pushed me to weight every single item and list them in an excel spreadsheet.
…well, it turned out that by forward-thinking and by following all the blogs about traveling and packing… I easily reached 9-10 Kg.
And I thought of having given up all the non-basics already! For days I tried to force myself to be creative and find a solution to decrease of another 2-3 kg my backpack size… but found none.
Until I got my Aha! moment, stopped forward thinking and leftover almost everything.
Easy right?
Not really….but I will explain to you how to actually get this process easily done.
Here are some of the highlights of my findings:
by voluntarily leaving behind some stuff that is occasionally needed or needed "just in case", you will really live an adventure and exit your comfort zone (that with those objects you are trying to bring with you).
I realized that I wanted to bring some stuff "in case of"… the problem with that is that fears obfuscate your rational thinking… you should always calculate the probability of an event to happen. If this probability is low, just drop the item. You will certainly find a solution in loco!
In the place you will be staying, you will have to force yourself and your brain to find a solution by dealing with locals or by exploring your environment, rather than using an artefact brought with you as a solution.
most of the stuff can be purchased at the destination and it's relatively cheap
the lighter you pack, the more grateful your shoulders and your ankles will be: you need to carry your backpack for several months
I am a stronger frugality believer. In fact, I am one :). The less you own, the less your things will own you. As a consequence, the less you pack with you, the fewer preoccupations, fears, anxiety you will have of getting those things broken, stolen or lost.
The thing was… how do I streamline all those nice beliefs into the packing process?
Well, now I know it after a bunch of mental trial and error: when I grabbed an item, before adding it to my travel checklist, I always asked myself the following questions:
is the item generating comfort and peace of mind in case of a specific event occurs?
is the item quickly allowing me to solve a problem by myself preventing me from dealing with local people, environment or culture?
can I purchase this item over there for a bunch of money?
what if it's lost, broken or stolen? is this jeopardizing my trip, creating big problems to it or is it an expensive loss?
is the item weighting too much without adding any value to my trip?
If the answer to one of the above questions was "YES", then I would have left the item behind!!

Easily done…
In a few hours, I had my less-than-7Kg backpack ready 🙂
Finally… my essential travel checklist
After a few lines of introduction (I hope it helped you :)), here is my PERSONAL ESSENTIAL list of items I think a digital nomad needs to have with him/her in the backpack (for a Sout-East Asia trip).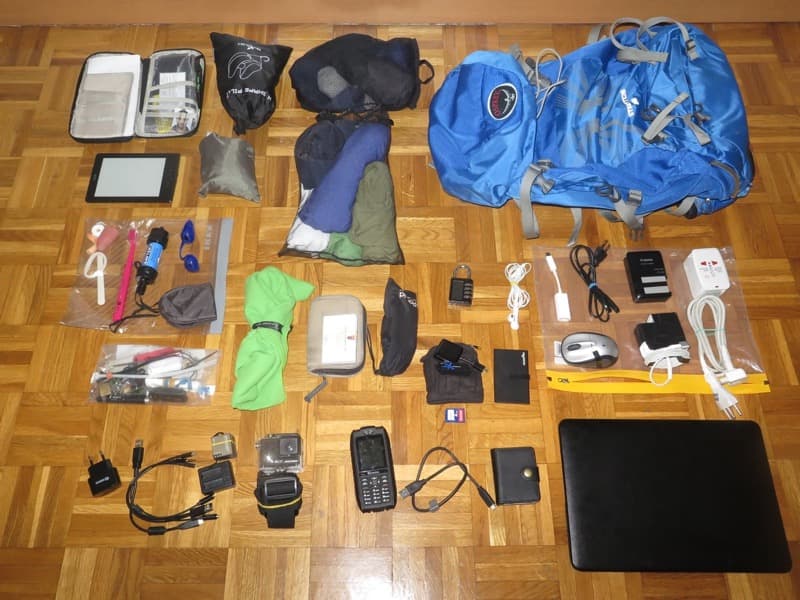 Item
Weight (g)
Osprey Stratos Backpack 36L
1310
Cheap lightweight micro foldable backpack
81
H shape pillow (much better than the classic U shaped one)
180
Tech:
MacBook Pro 13, hard shell and cover
1980
Canon PowerShot SX730 camera, charger & spare battery
580
External Backup Disk 1TB (the best on the market in 2018)
30
Kindle
171
MacBook Pro Charger
350
Action camera (GoPro-like), accessories & spare battery
270
Universal electrical plug (travel adapter) with USB
90
Various USB sticks & SD cards
50
Various cables, charger, headphones…
70
Mac Thunderbolt-Ethernet adapter (very important to have)
30
Logitech Bluetooth mouse (MX master)
80
Clothes:
4x Oeko-tex and organic boxers
240
1 pair of shorts
137
Swimming suit
170
2x pair socks (1 tiny 1 big)
60
2x Sleeveless shirt
220
1x long sleeves shirt
155
Documents:
Docs, photocopies, photos,…
90
Notepad and pen (small one)
50
50x Business cards
45
Cheap wallet ready "to be stolen"
30
Basic accessories
Toiletries (toothbrush, dental floss… that's it)
42
Microfiber towel
90
Extra secure lock (don't spare money on that!)
60
Cheap but UVA/B protection Sunglasses
35
Emergency kit (

all can be left behind

):
Spare batteries: 1x AAA, 1x AA and 1x button 2032
39
Cheap Mini Torch (5 cm)
30
Tiny screwdrivers set (to open your MacBook Pro)
40
Mini sewing kit (surely all this cheap material will break 🙂
19
5m string (important to dry clothes)
30
Fire starter (depending on your trip)
50
Life-straw
47

TOT

6951
and directly on you when you travel: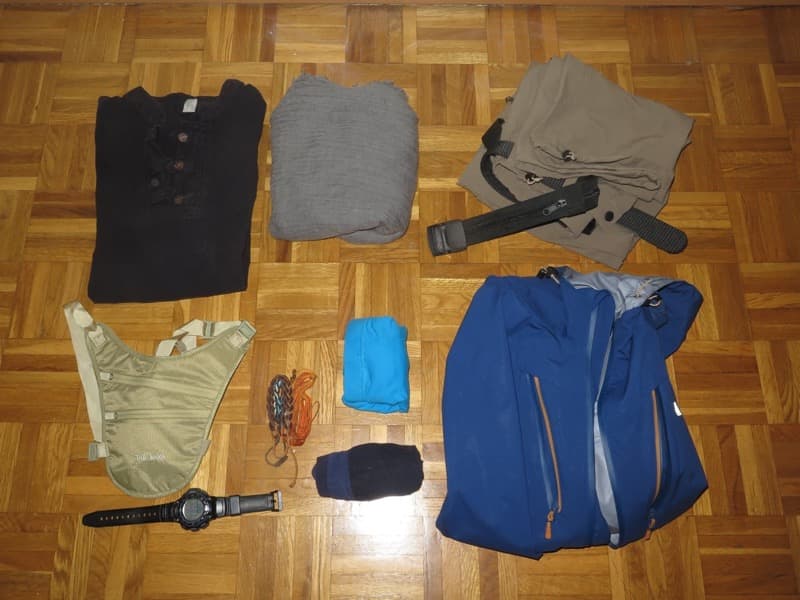 Roughly 2 Kg on you and 7 Kg on your backpack.
The only thing that I would buy in loco it's a pair of sandals or flip-flop :).