After a few days in the polluted big city, we decided to move to the beaches 🙂
It is well known that the best Thai beaches are on the islands. But, which one is really the best? Several of them are heavenly, small and not so touristic but… during the Chinese New Year, it is impossible to find an affordable accommodation there because the number of hotels is limited and the number of tourists is huge! The only availability is in dorms or super luxury resorts, and this is not what we want now.
We wanted an island with both beaches and activities to do, therefore we decided for Koh Samui which is a bit bigger than the others.
It took us 20 hours to go by public transportation from Bangkok to Koh Samui:
14  hours with the sleeper train (Bankok – Surat Thani)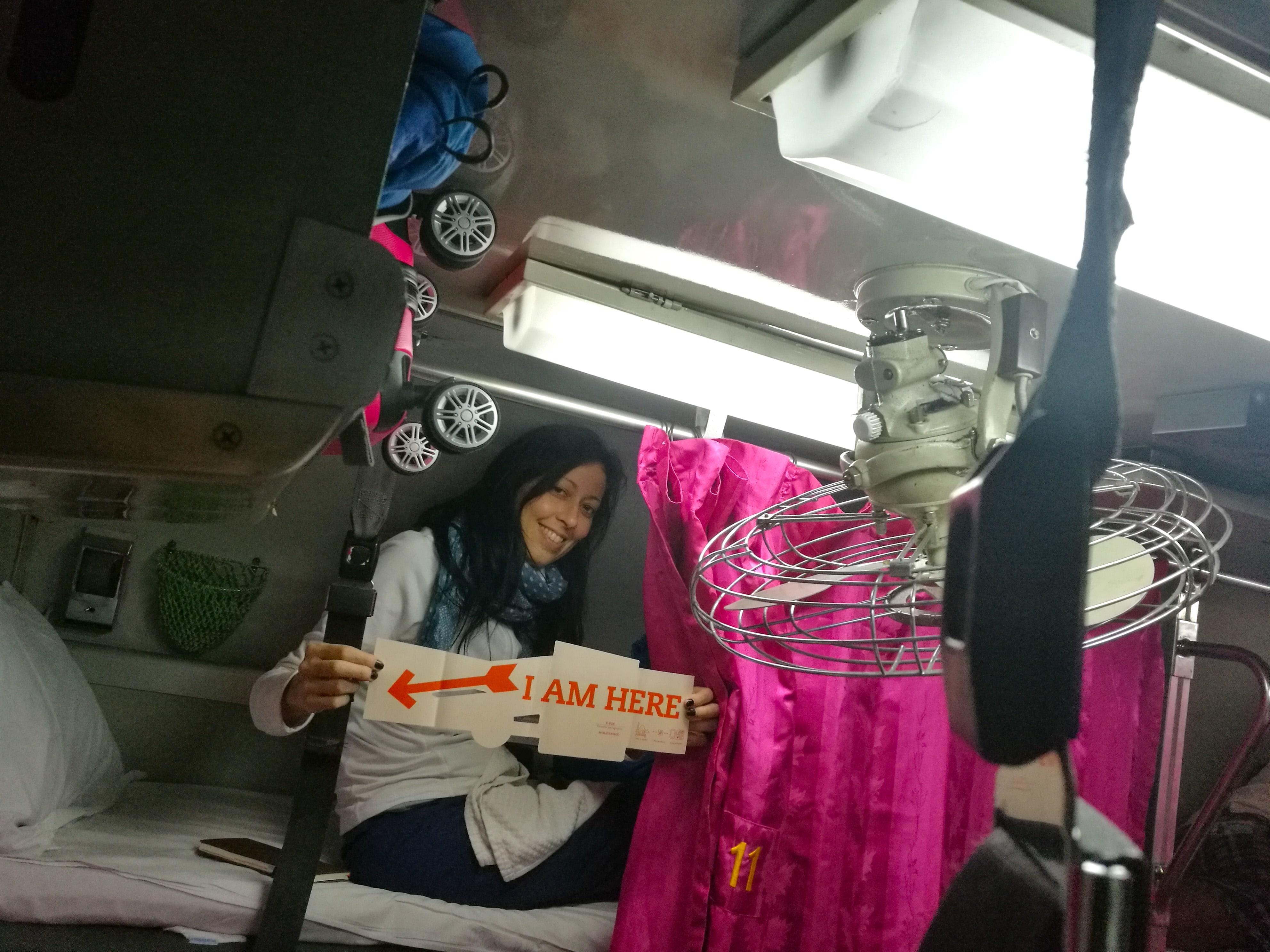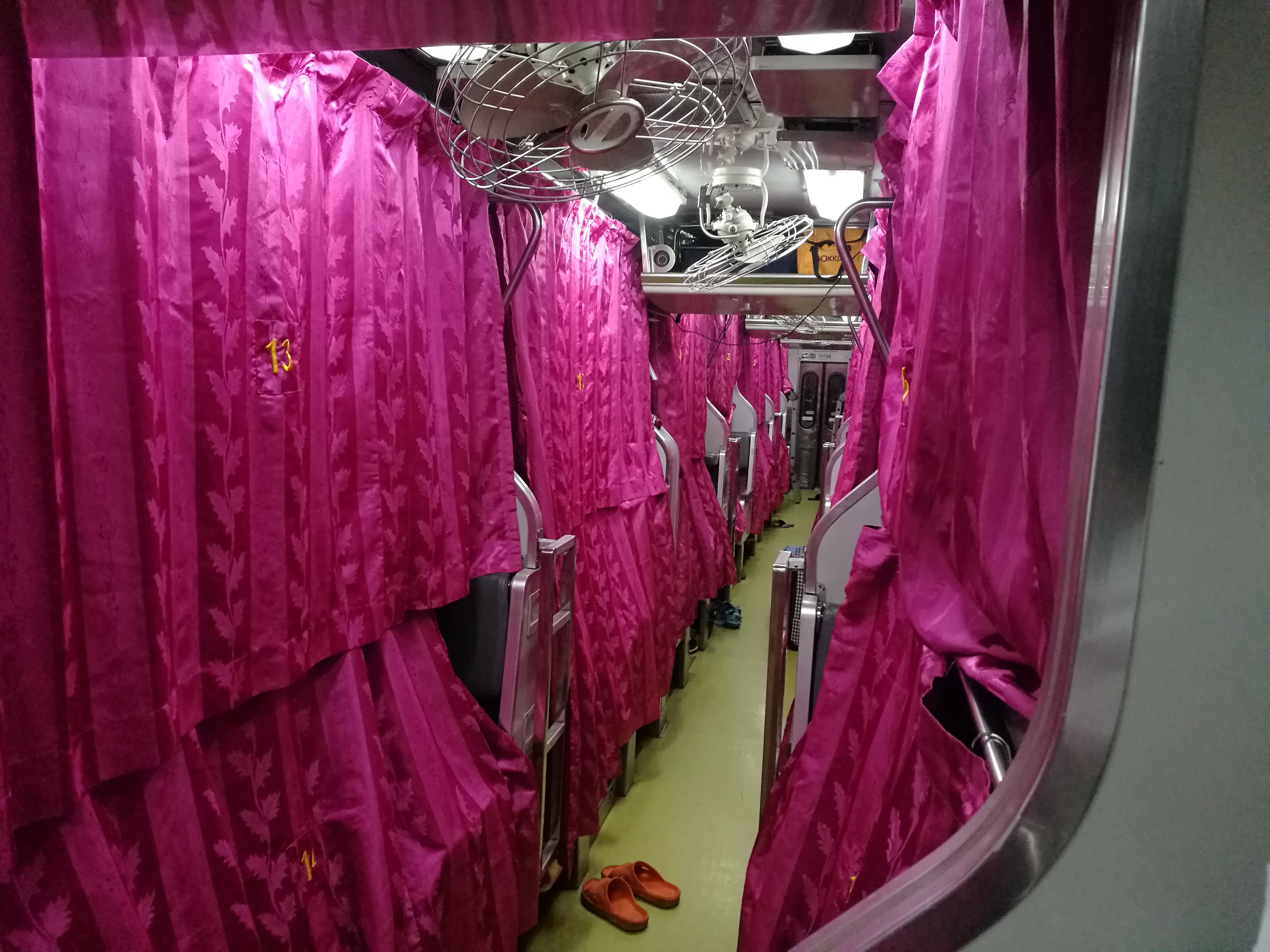 waiting time…
1 hour by bus (Surat Thani – pier)
waiting time…
1.5 hours by boat (pier – Koh Samui)
waiting time…
1 hour by taxi (Koh Samui – hotel in Lamai beach)
And finally, we arrived on the beach after more than 1 year! White sand, clear water…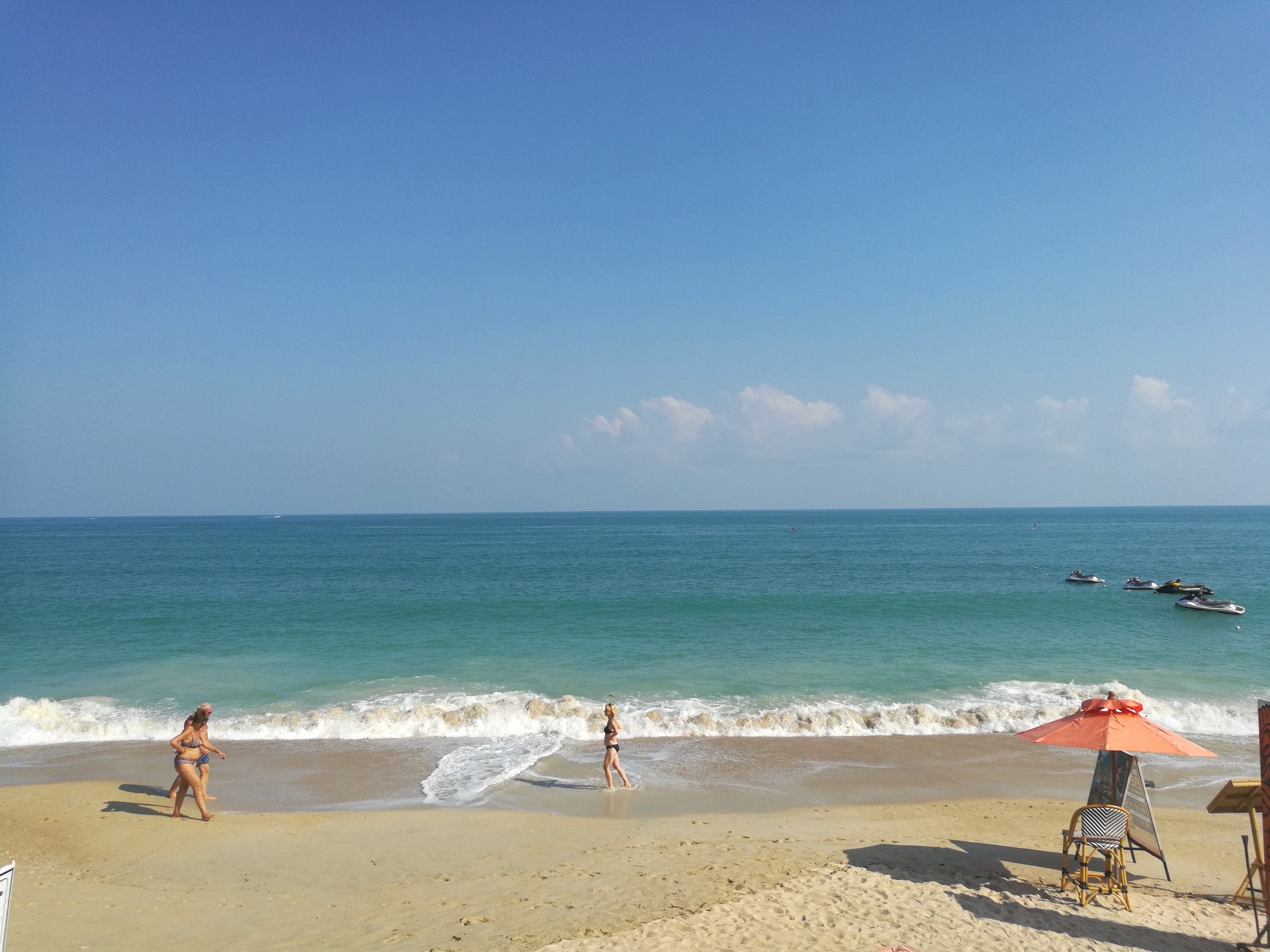 But… (there is always a "but").
We noticed that Thailand is becoming expensive and super touristic. It seems that they only want to earn as much as possible, it is a business created for lazy tourists who don't care about this beautiful country. Unfortunately, it is now a mass destination and you really notice it. Local people are not so friendly and smiley as they were in the past, and mass tourism is damaging and polluting the environment. Above all, this happens in peak periods.
Shortly I will analyze a few misleading points, one by one.
We were in Lamai beach, which is considered to be one of the best and longest beaches in Koh Samui. It is not so vibrant and party-style as Chaweng, so you go there when you want a more "relaxing" holiday. Due to this characteristic, on the web you will read that this destination is also cheaper than others in Koh Samui.
But, is everything we read online reality? Mh…
Accommodation
For low budget accommodations (hostel – 2* hotels) you can expect to pay around THB 800/night (approx US$ 26), which is way too high for Thailand and for the offered services. Buildings are mainly old and with a few or no comforts (fan instead of A/C, cold shower only, poor WIFI, no room cleaning, etc.).
We had a terrible experience at the Rich Resort Beachfront. If you check the description of this hotel on booking.com, you see that it has a private beach with sun-beds, a cool pool and nice rooms. In reality, the beach and the pool belong to a close by bar, which has a partnership with this hotel. The hotel is located on the other side of the street, and not in front of the beach. Our room was terribly old and dirty, you don't really want to stay there! The staff is not friendly and in the room you find a paper mentioning the costs you have to pay in case you damage something in the room (but everything is already damaged!). Fortunately, we stayed there only 2 nights, the time to find another accommodation.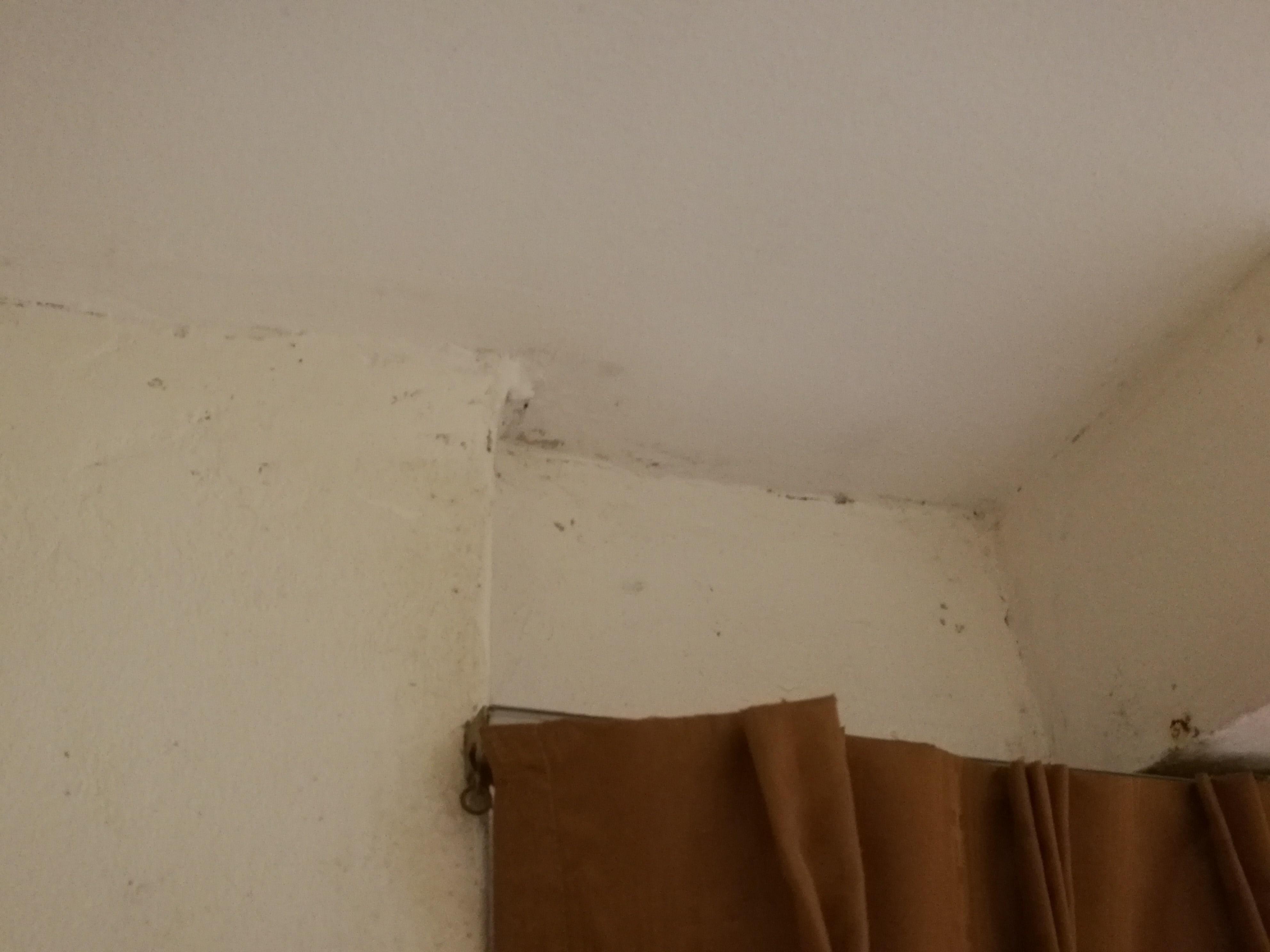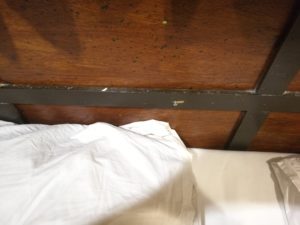 For a standard accommodation (3*) you can expect to pay around THB 1700/night (approx US$ 55), which is still too high compared to Thai standards. Comforts are a bit better: you get 2 bottles of water every day, daily room cleaning, A/C, complimentary tea and coffee, towels for the beach, good WIFI connection, etc. We stayed at the Coconut Beach Resort, a nice experience and a good balance in quality/price.
Luxury accommodations were out of our budget, therefore I will not mention them here.
Food
In Koh Samui you will find many cuisines: Thai, Indian, European (mainly French, Swiss and Italian cuisine), street food, BBQ, and much more. The costs sometimes are extremely high but mainly they vary depending on the restaurant's location: along the main road, it is way more expensive than in hidden spots. You need to explore a bit the area in order to find affordable restaurants offering good quality food.
TIP:
[su_note note_color="#f2f2f2″ text_color="#000000" radius="3″ class="p_tip"] Select one dish and use it as a meter to understand if the restaurant charges too much or not. [/su_note]
Our meter was the Pad Thai's price, which is on average around THB 60-80 (approx US$ 2-3). Along the main road, a Pad Thai costs THB 150 (approx US$ 5). In hidden restaurants, it costs THB 60 (approx US$ 2).
The same rule is applicable to Thai curry meals (THB 220 = 7 US$), breakfasts on the beach (THB 180 = 5.5 US$) and to local beers (THB 80 = 3 US$).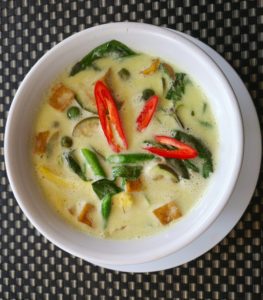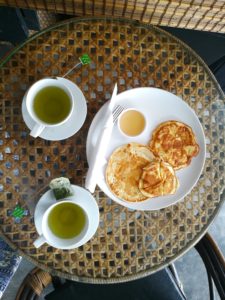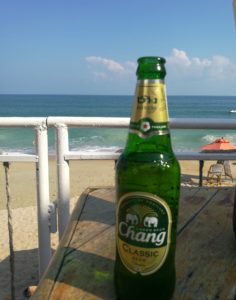 Almost every restaurant has a menu with pictures showing the dishes so that it is easier to understand what's inside. It can happen that the picture shows different ingredients…
Talking about shops or supermarkets: Thailand, in general, is full of "7 Eleven" supermarkets, where you find all kind of imported products (there are even Lindt chocolates), and almost nothing local. They are literally at every corner, this is the result of globalization. As a consequence, it is very difficult to find a local supermarket with Thai products.
Beaches
This is the main and real disappointing point of the whole story. As mentioned, Lamai beach is well known as one of the best beaches in this area. If you google it, you will find this:

In reality, this is what you see here and there, along the beach: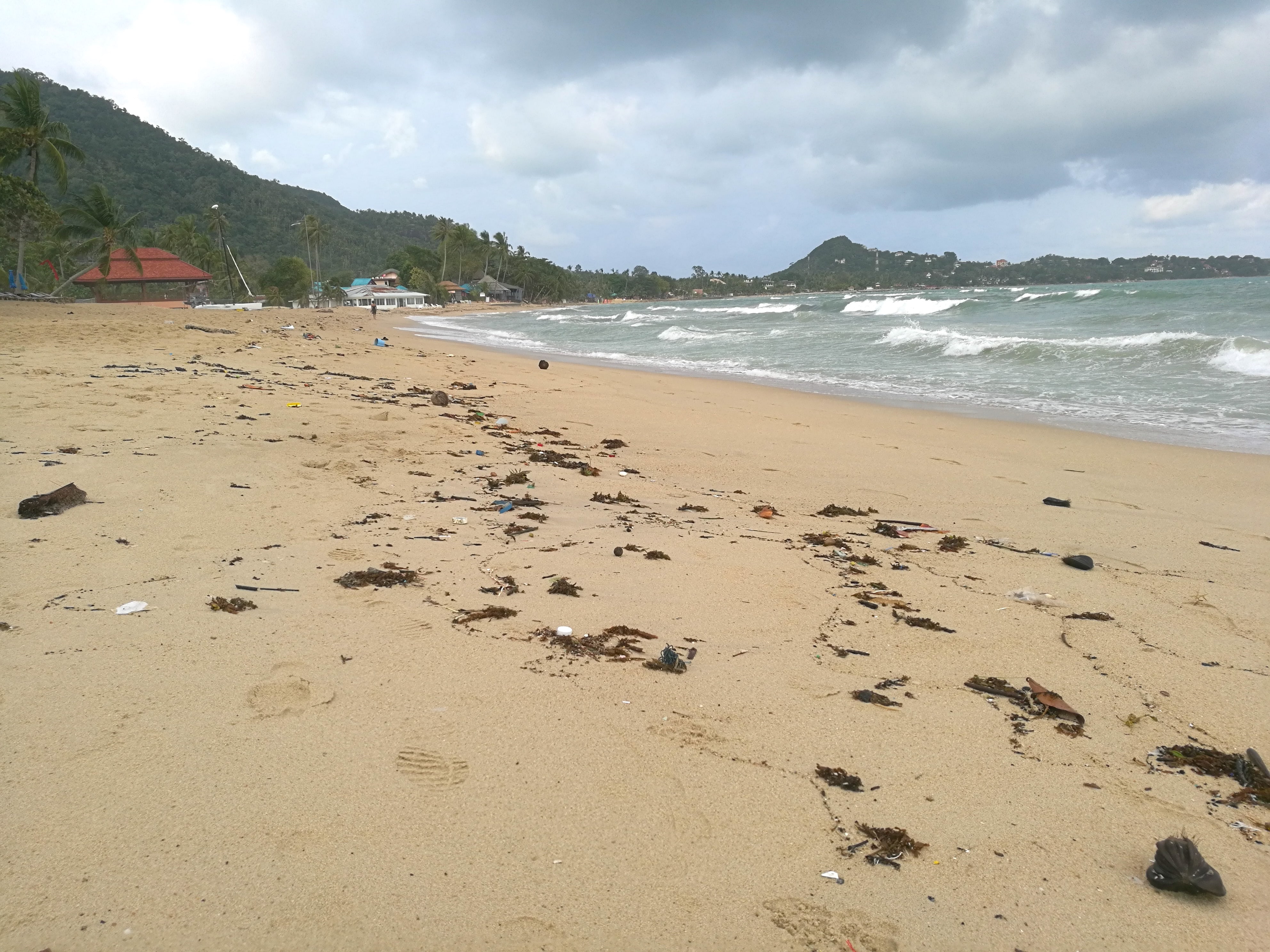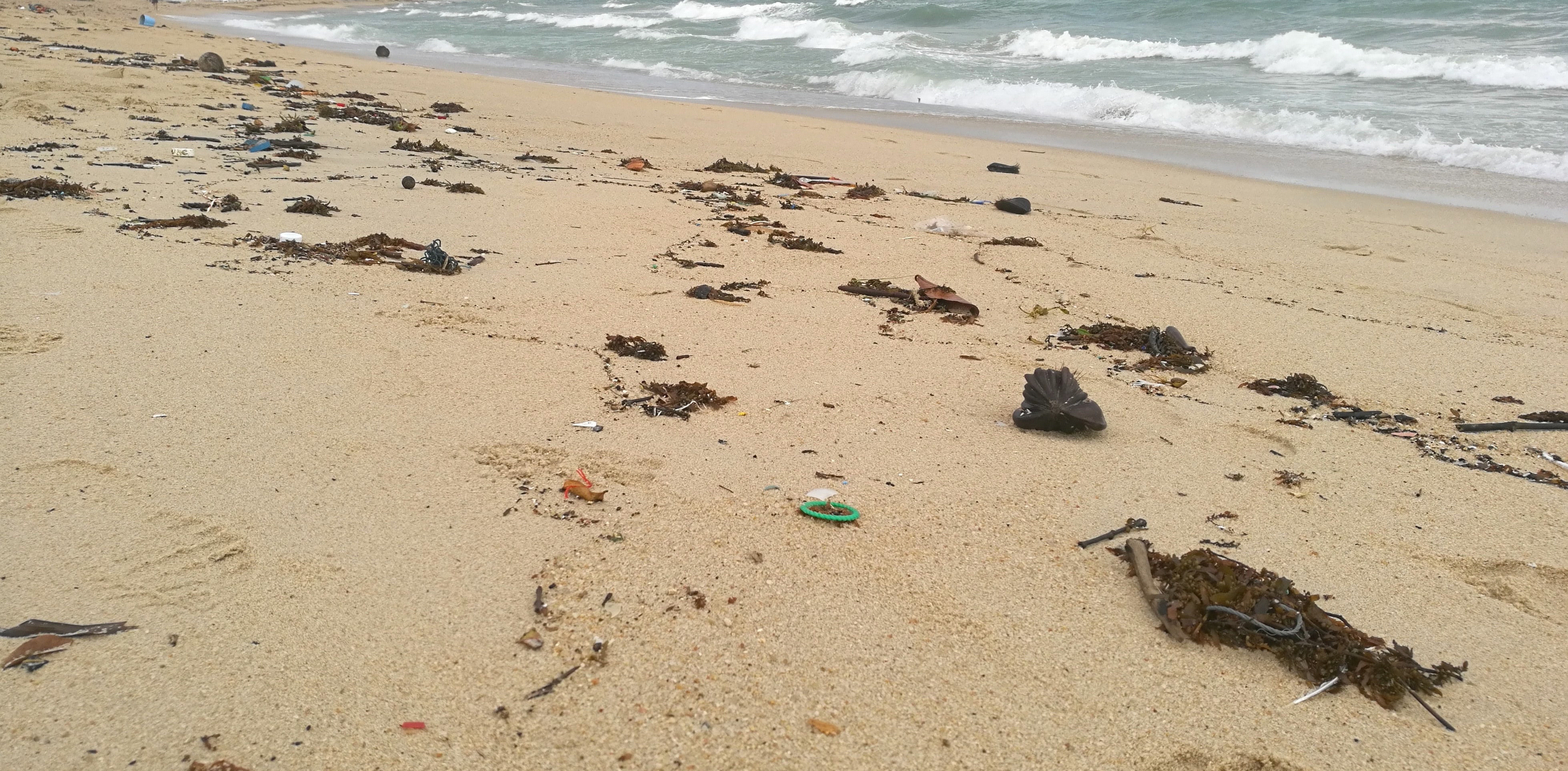 I must say that on this side of Koh Samui it is quite windy and there is often heavy sea. As a consequence, the sea brings all the garbage on the beach… and this is the result!
Fortunately, to defuse this disappointment, in the late afternoon, you can admire Thai laughing girls who collect shells on the shore. They will use them to create bracelets and necklaces.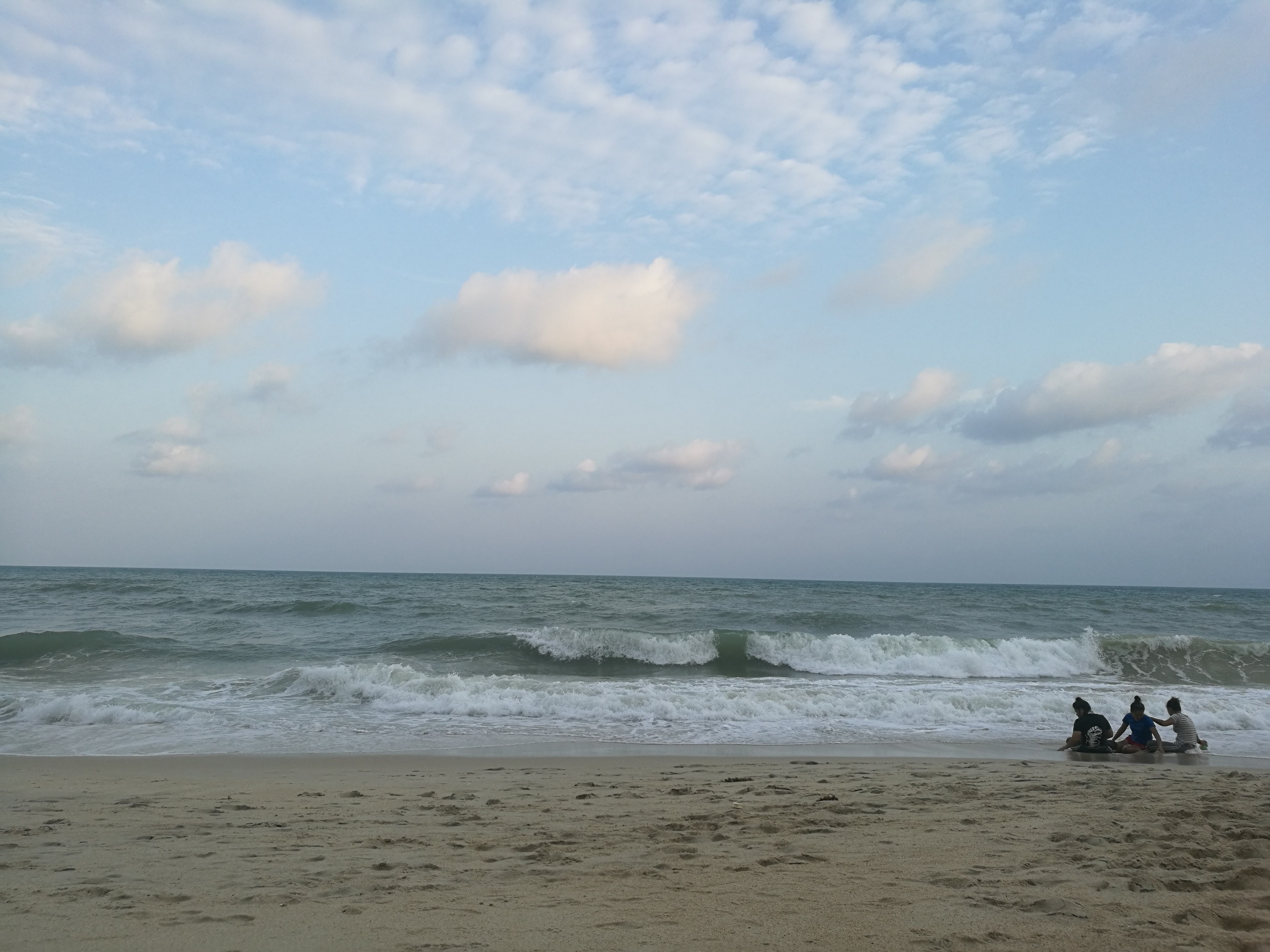 Despite all, we had a good time here!
It is the quietest part of the island, where we could relax and enjoy at the same time.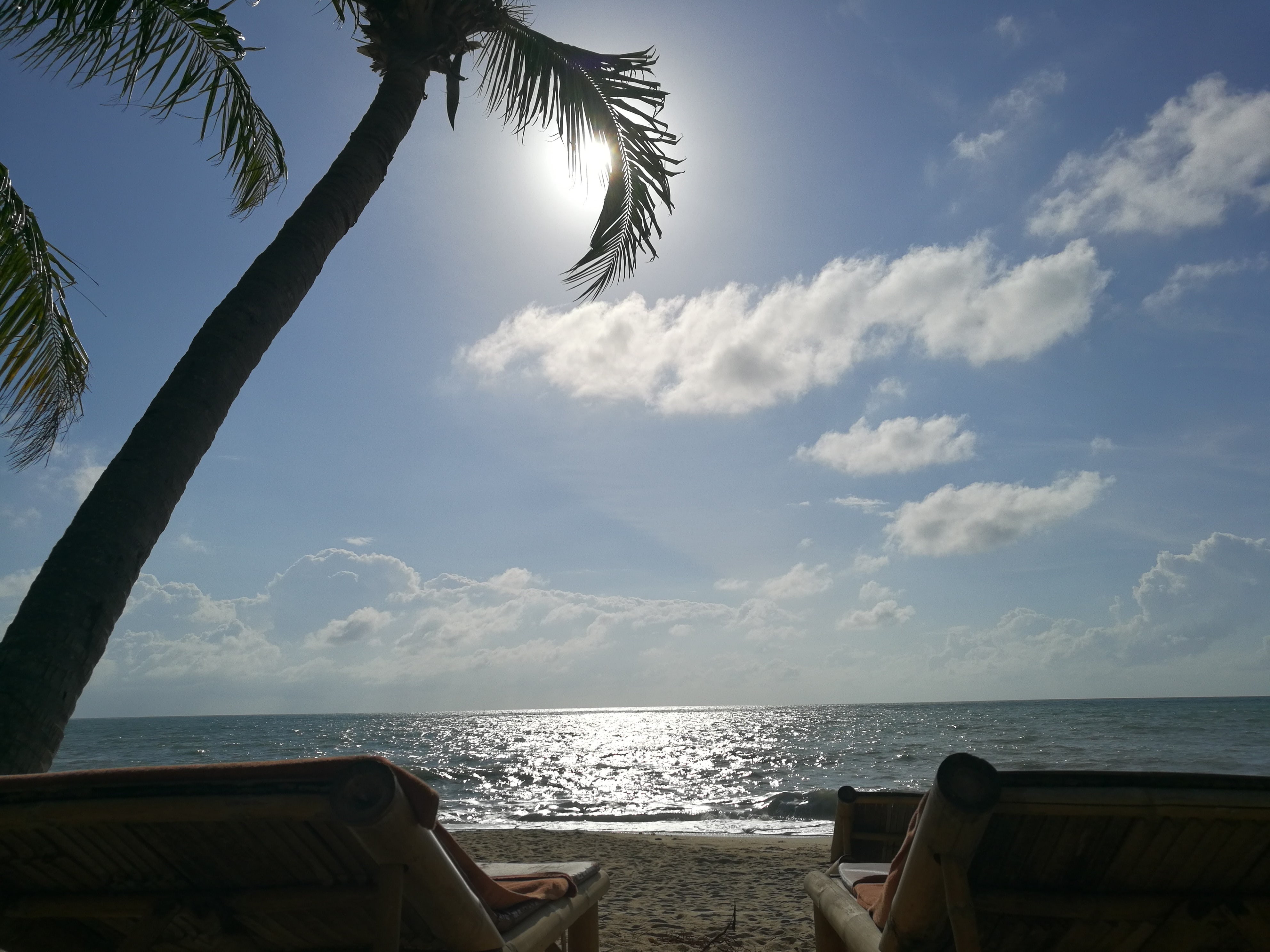 The WIFI connection, despite the negative reviews found on the web, was not so bad. So we could work directly on the beach, enjoying a fresh coconut 🙂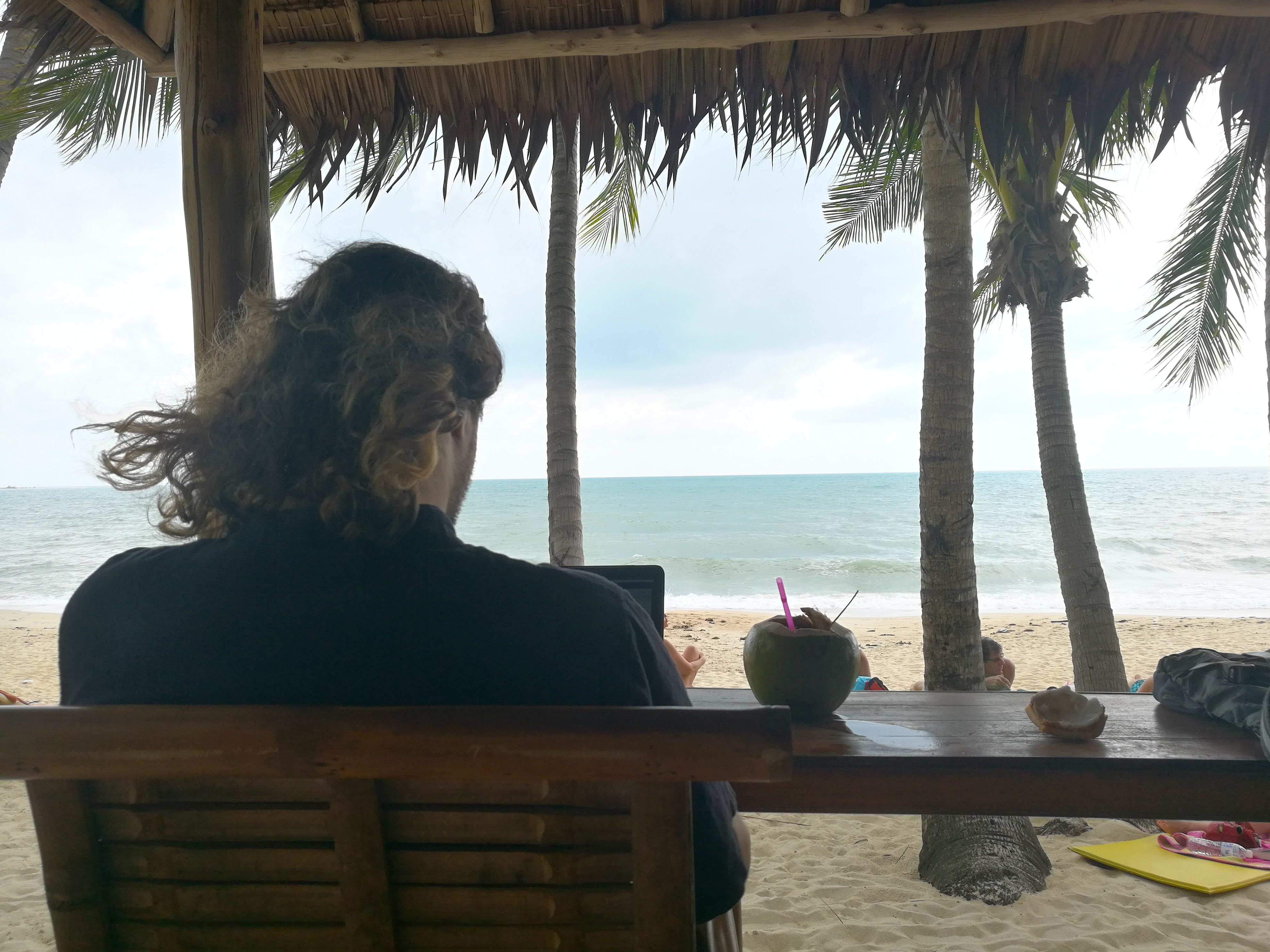 After 6 days in Koh Samui, we are ready to move to our next destination! Talk to you soon 🙂