Pakbeng: the accommodation business seen differently [real story]
A village that wakes up at 5 pm and falls asleep at 9 am.
(one day with a 15-years old Laotian guy, working in his family's guesthouse)
Sabaidee dear tourists,
I would like to introduce myself to you. My name is Palani and I was born in Pakbeng (Laos) 15 years ago. You may be curious about what I will tell you. I guess you are wondering how a young boy like me is spending his life in such a small village in the middle of nowhere, in Laos. Well, I would love to tell you more about my life. It actually all turns around the moment of the slow boat's arrival, with you guys onboard. This happens every day, at approximately 5 pm.
I am in this picture… but you will find out only at the end who I am 🙂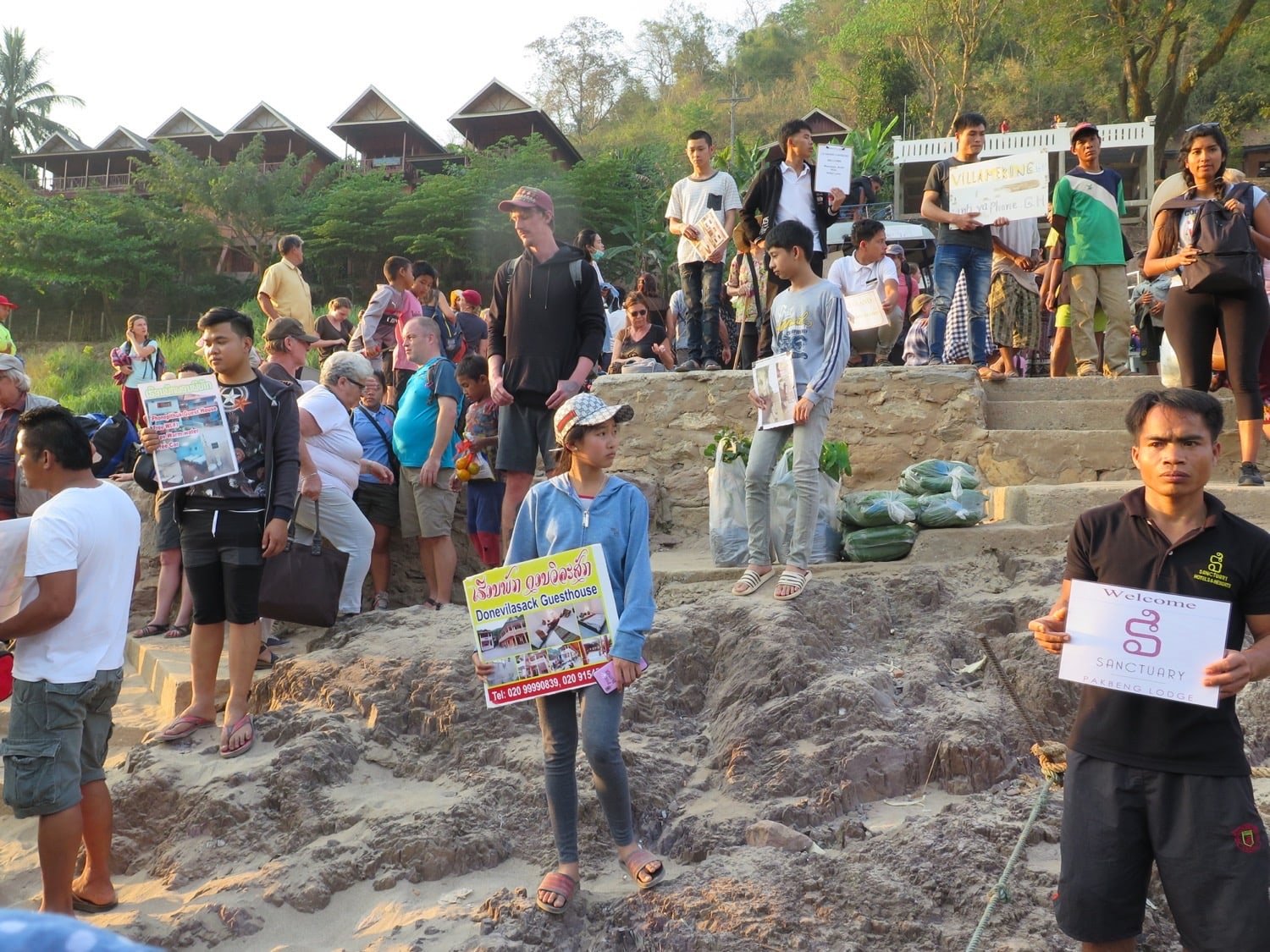 What happens in Pakbeng during the day?
So, practically my village wakes up at 5 pm when you tourists arrive, and falls asleep at 9 am when everyone leaves. But what happens in the meantime?
Let's start from the beginning. I live with my parents and my 2 younger brothers. We own a guesthouse in Pakbeng.
My day starts very early, each morning I get up at 5.30 am when the rooster crows. In a few minutes, I am dressed up and ready for my breakfast: I usually eat a bowl of noodle soup to have enough energies to start my routine.
My father immediately takes care of "men works". Our guesthouse is not so new anymore, as it was my grandfather's. But we like to improve both the building and our services so that our guests are happy and spread a good word about us. He is currently working on creating a beautiful garden. I can already imagine our guests enjoying some fresh air among green palm trees.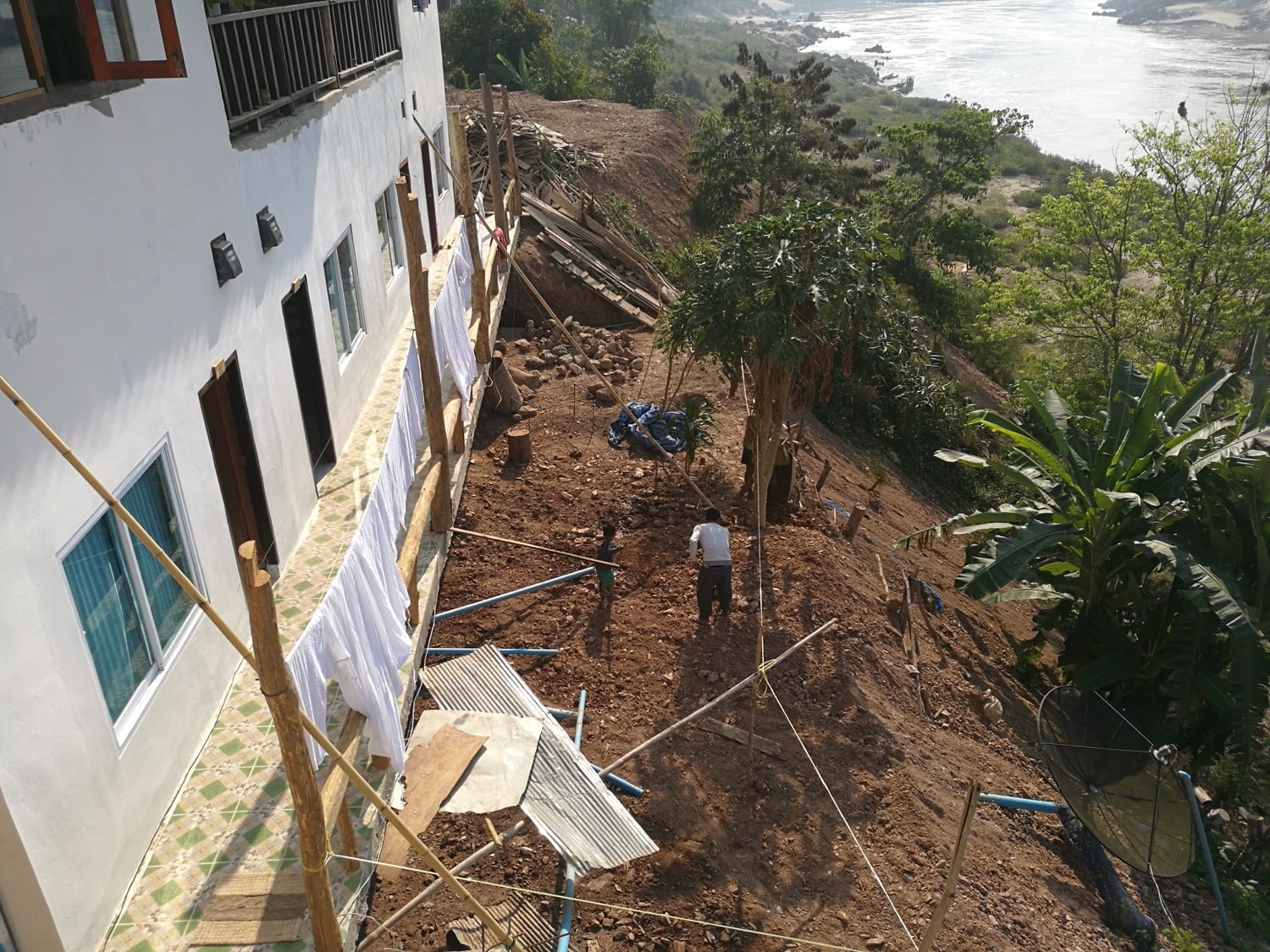 He has to work in the early morning because during the day is really too hot: between 10 am and 4 pm it is actually hard to stay outside…
In the meanwhile, my mum and I are preparing breakfast and taking care of our guests. They have to be ready at 8 am because we need to bring them to the pier on time for the slow boat's departure. My uncle has a truck, and we use it as a minivan.
At 9.30 am, after the slow boat leaves, everything becomes quiet and silent. There is no one around anymore.
In Pakbeng you can find several shops, even a hardware store and those store selling everything you may need,…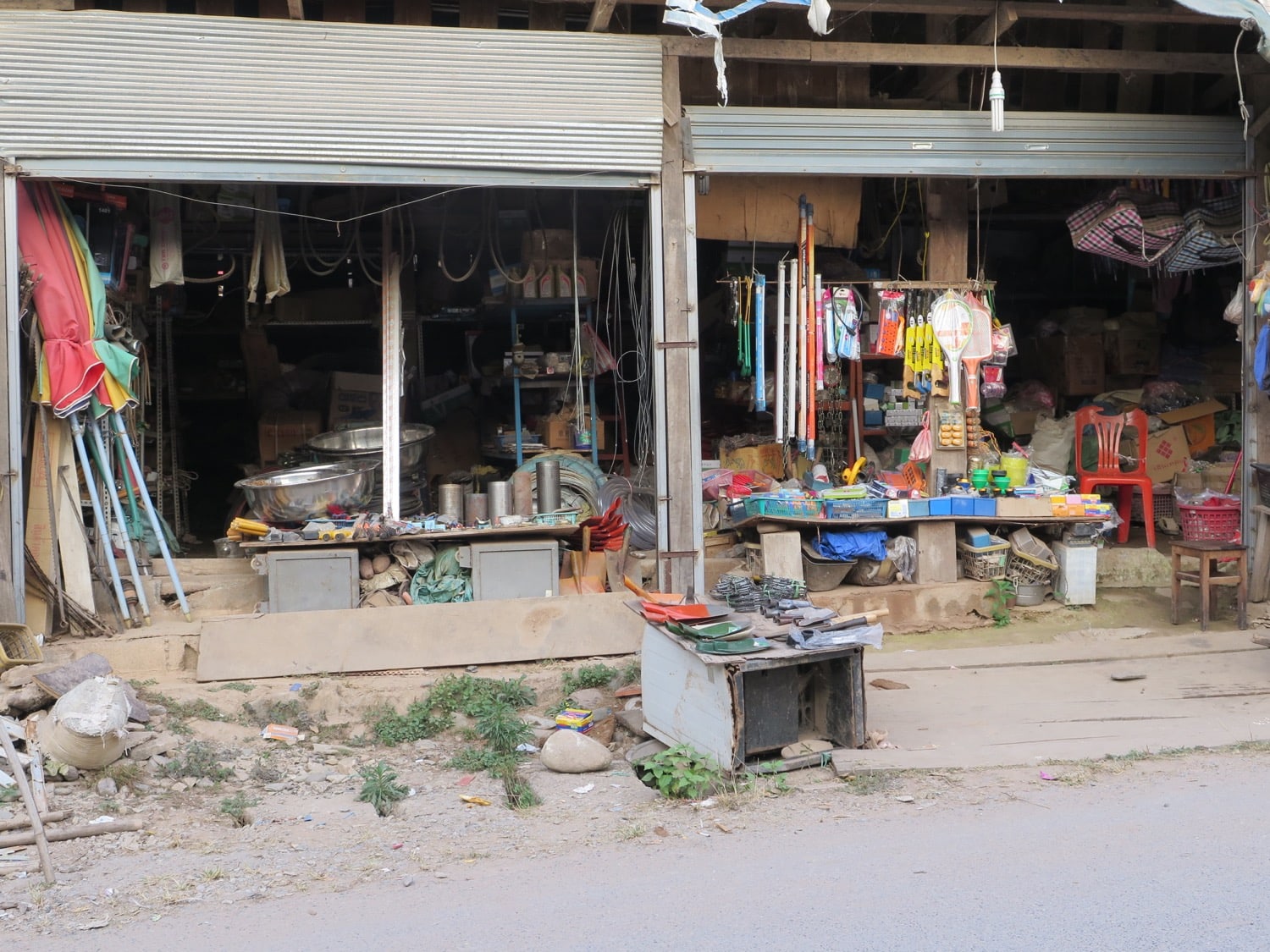 … or, you find grocery stores.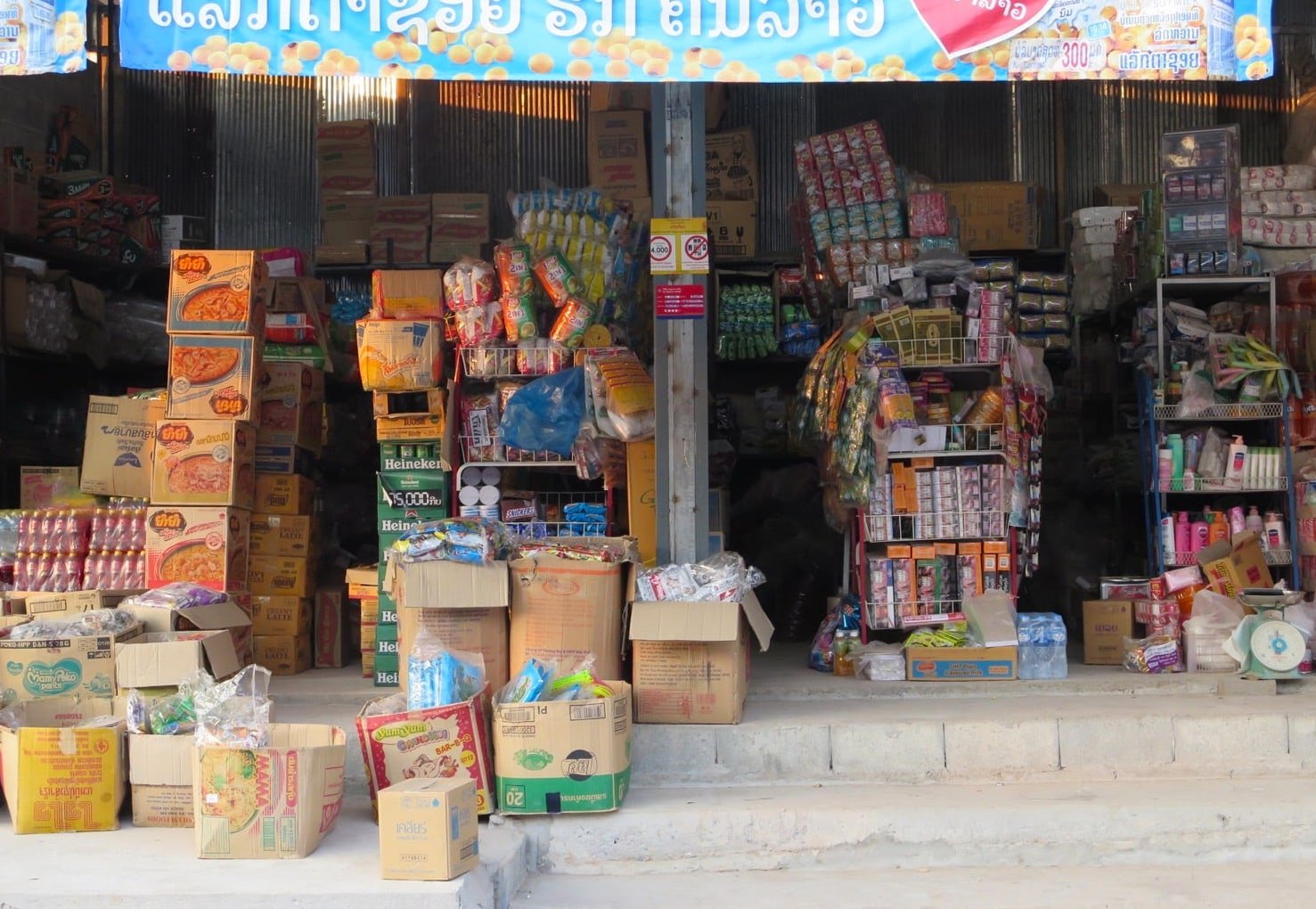 I know that many of you may look for money exchange because you are probably arriving directly from Thailand. Unfortunately, we have neither banks nor exchange desks in the village, we only have 2 ATMs where you can withdraw some local currency. Take what you need for your short stay, and then exchange the rest when you reach Luang Prabang. I heard that many tourists handle it this way.
Globalization
Pakbeng is a small village in the middle of nowhere, disconnected from all the main roads. It is reachable from Oudamxay by road, or from Huay Xai by river. Globalization arrived here too together with the slow boats' business.
Every slow boat stops in Pakbeng for the night, so a few years ago we had to develop our village, to transform it into a tourists' village and to "adjust" it according to the global trend.
Eventually, the civilized world arrived, but luckily it didn't completely take over our culture. Unfortunately, so far, only the "worse" side of globalization invaded our country. Our little and local stores are full of American products. They are so bright, colourful and inviting. Don't you think so? When I see those candies packages, I just want to eat them all! It's amazing…
And… did you see our bakeries selling huge French croissants? They are expensive and quite big for us who are not used to eat risen products. But I understand that for western people, this is kind of a breakfast item. I had a croissant once, it is tasty but I still prefer my noodle soup 🙂
If I think about my childhood, I remember that candy bars were not existing at all here. I haven't seen one until I was 10-11 years old. All the food we ate was local food, not imported and with natural ingredients. We had only a few homemade sweets because our culinary tradition doesn't include refined sugar.
The future
It's scary to think that, in a few years, everything has changed. And I don't want to think about what will happen in the feature… Today's young people are used to sugar, as they are growing up seeing cookies, candies and chocolate.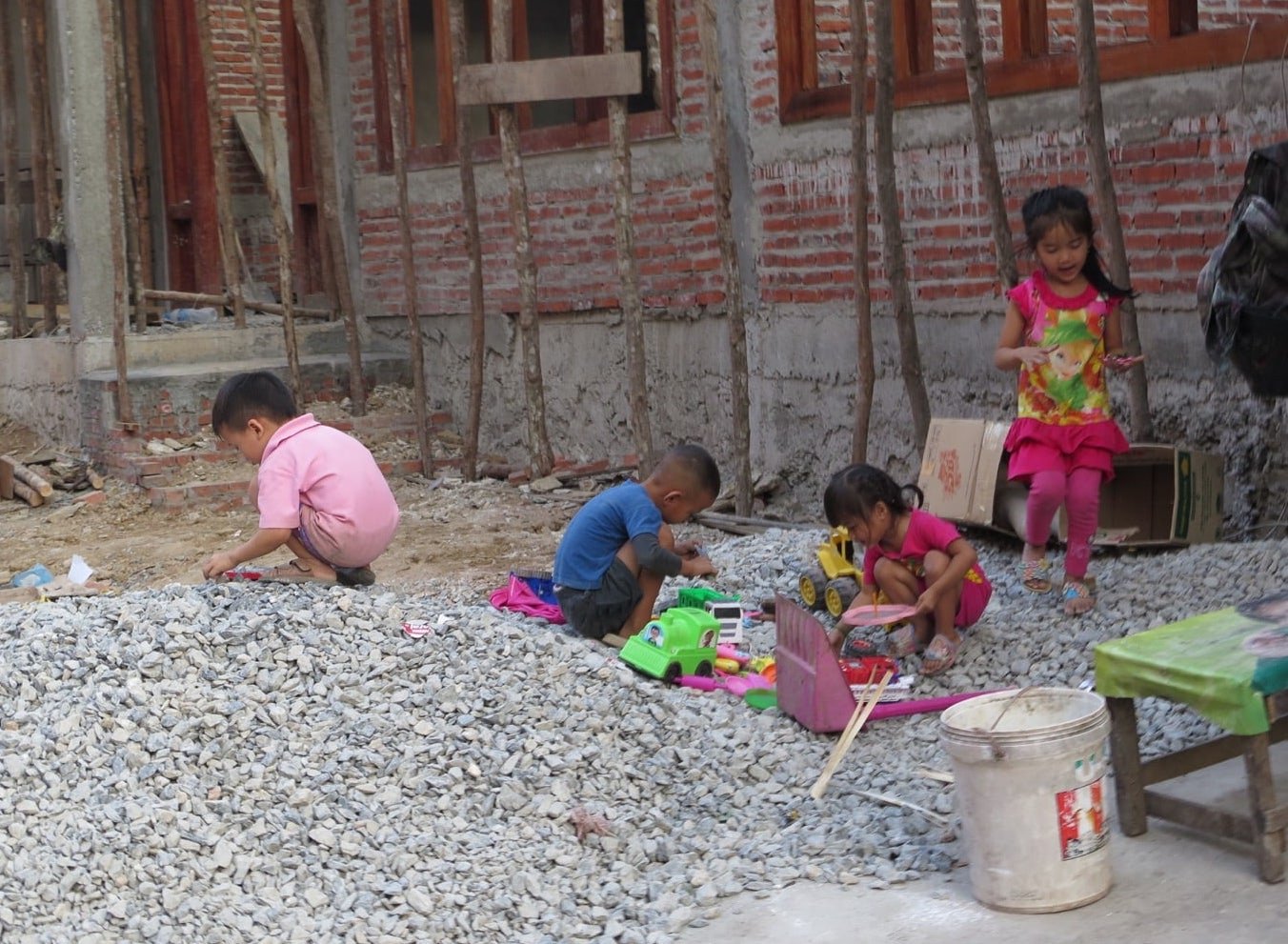 We all eat "junk food" sometimes, not too much as it is still quite expensive and we cannot always afford it. I prefer to save my little money for my family.
The environment
We are also living in an environment where we don't make any difference between garbage and nature. If you look on the ground, you will see food packages, plastic bags and other waste, together with chickens and other animals. I don't accept this condition, but I am one of the few against an entire population… I really would like to make the difference and safeguard the environment, but habits here are too strong. Anyway, I am a fighter, and I will not surrender so easily 🙂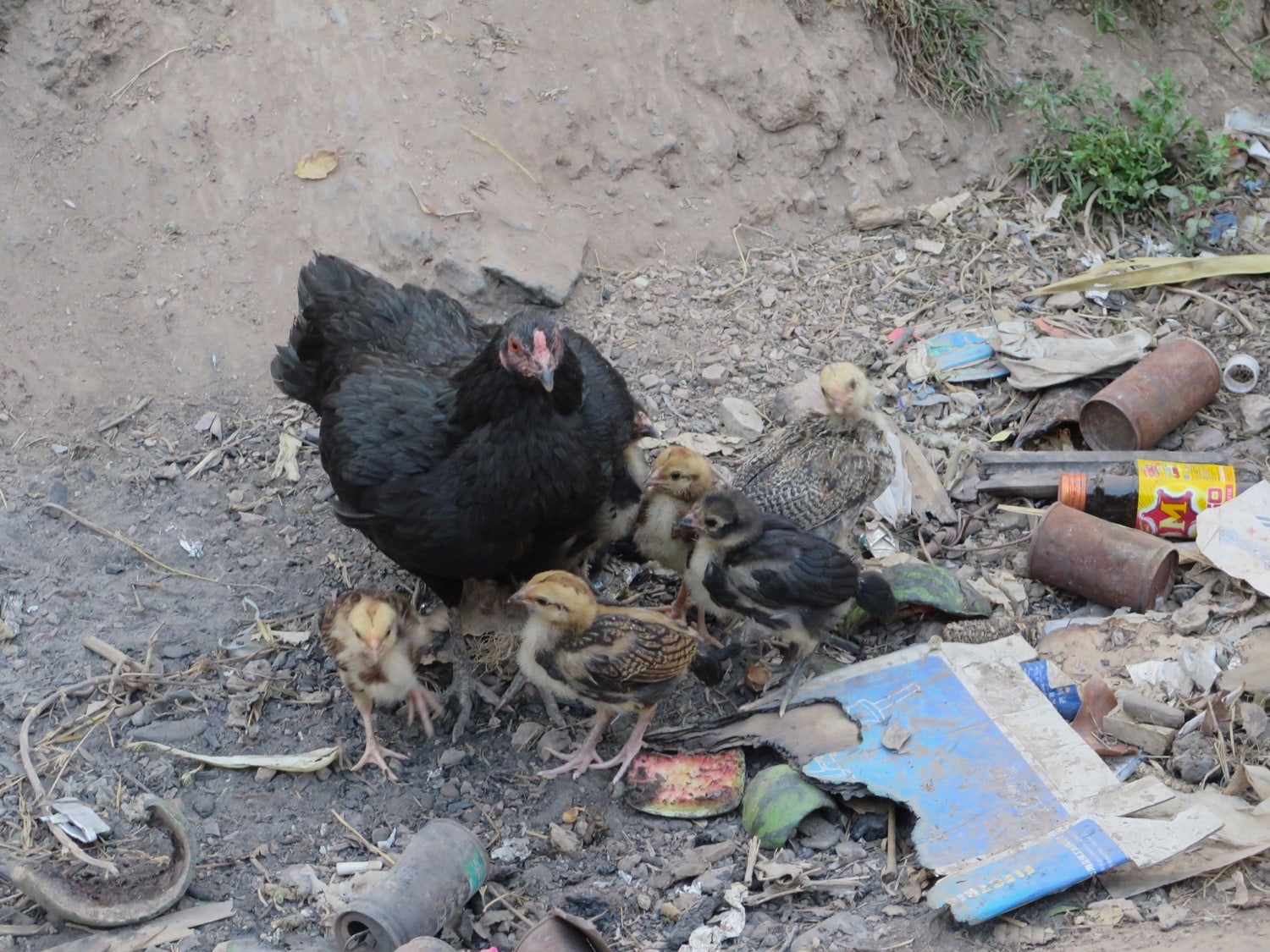 What is even sadder, is that several dishes of our tradition are based on chicken. This means that when we eat chicken, we eat garbage… It sounds disgusting, but it is kind of true.
Oh sorry, I forgot to introduce you to my 2 little dogs! They are cute, aren't they? When they grow up they will be our guesthouse's guardians. For now, they only eat, sleep and play…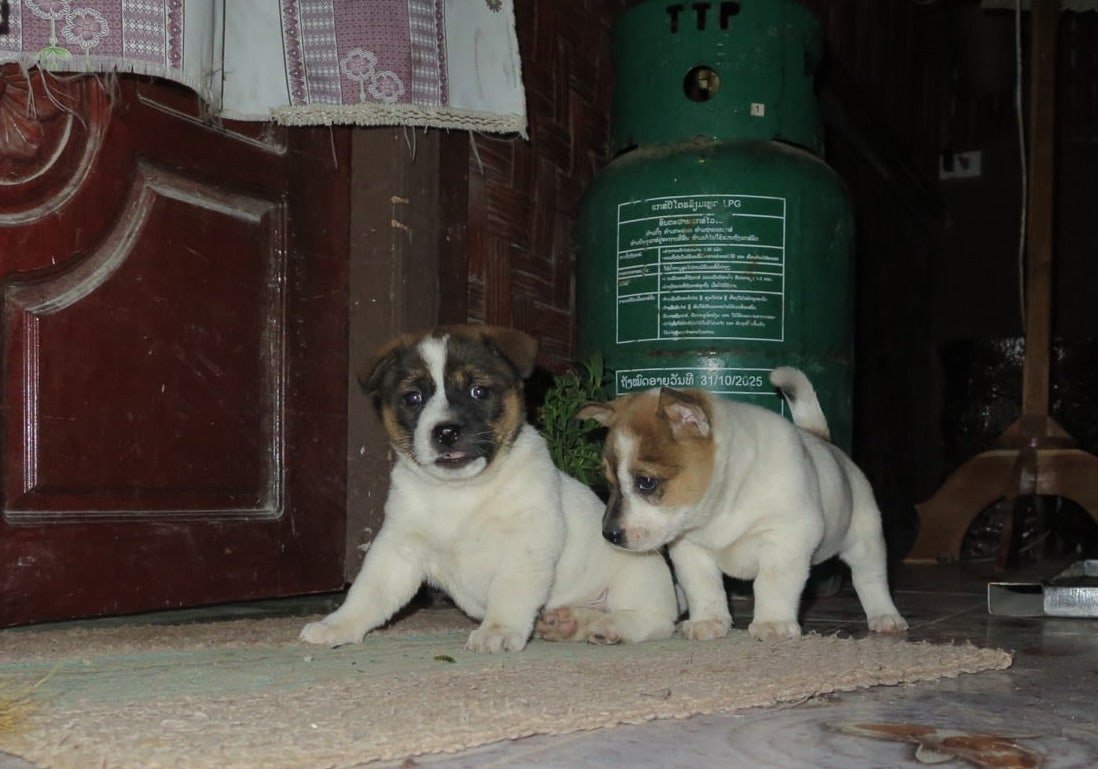 Daily life
But let's go back to my day. We were talking about that, right?
Around 1.30 pm I have lunch with my family. We usually eat in the patio, as it is cooler. Today we had fried noodles, one of my mum's best dishes!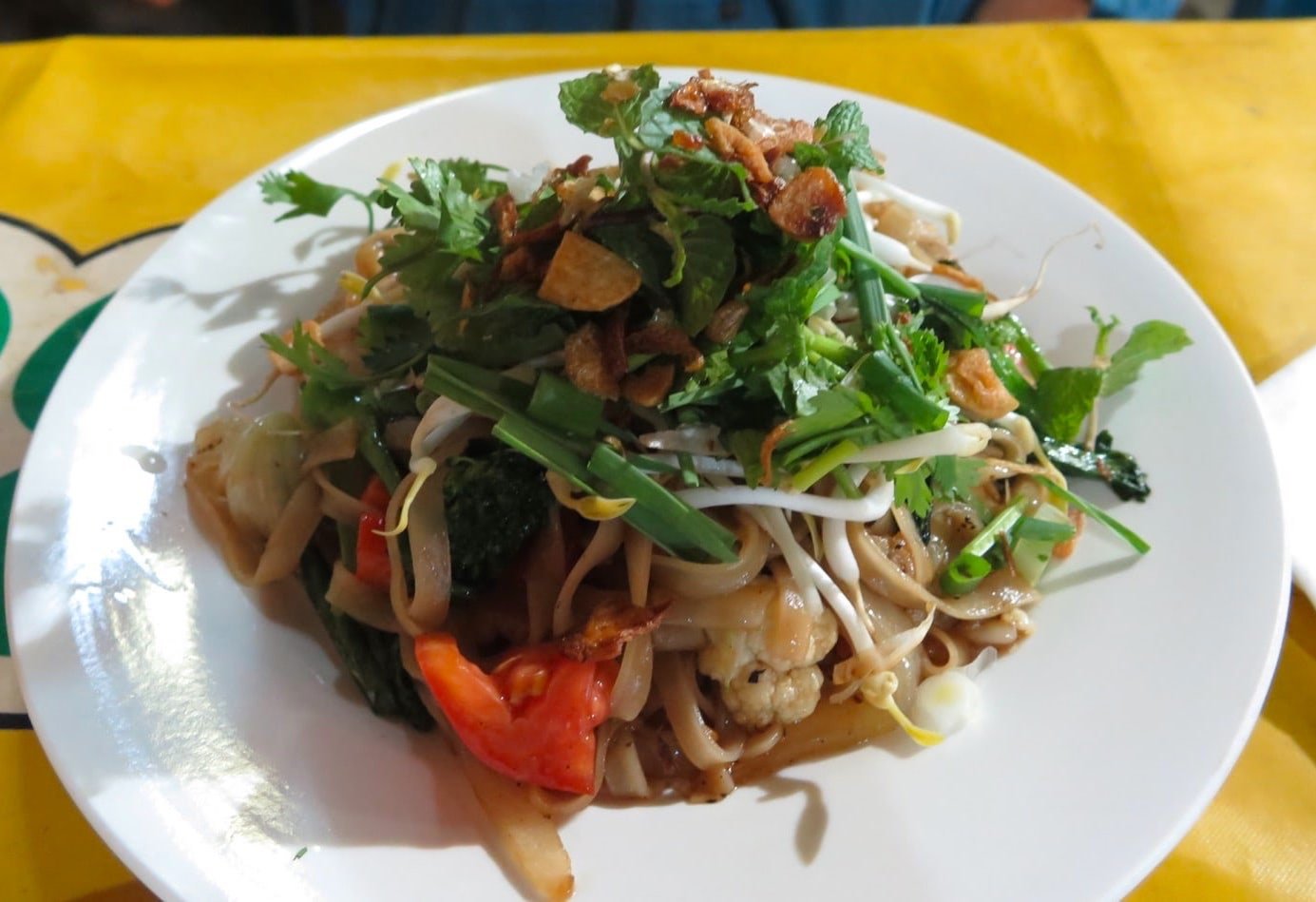 After lunch, we, all together, prepare the rooms for the guests who already booked online. In addition to that, we always keep a few other rooms ready to use in case I convince some extra tourists at the pier.
Today it was a special day. Instead of working for the guesthouse all day, I took a few moments for myself. At 3 pm I realized it was getting too late, so I put a t-shirt on and run to my cousin who owns this barber shop.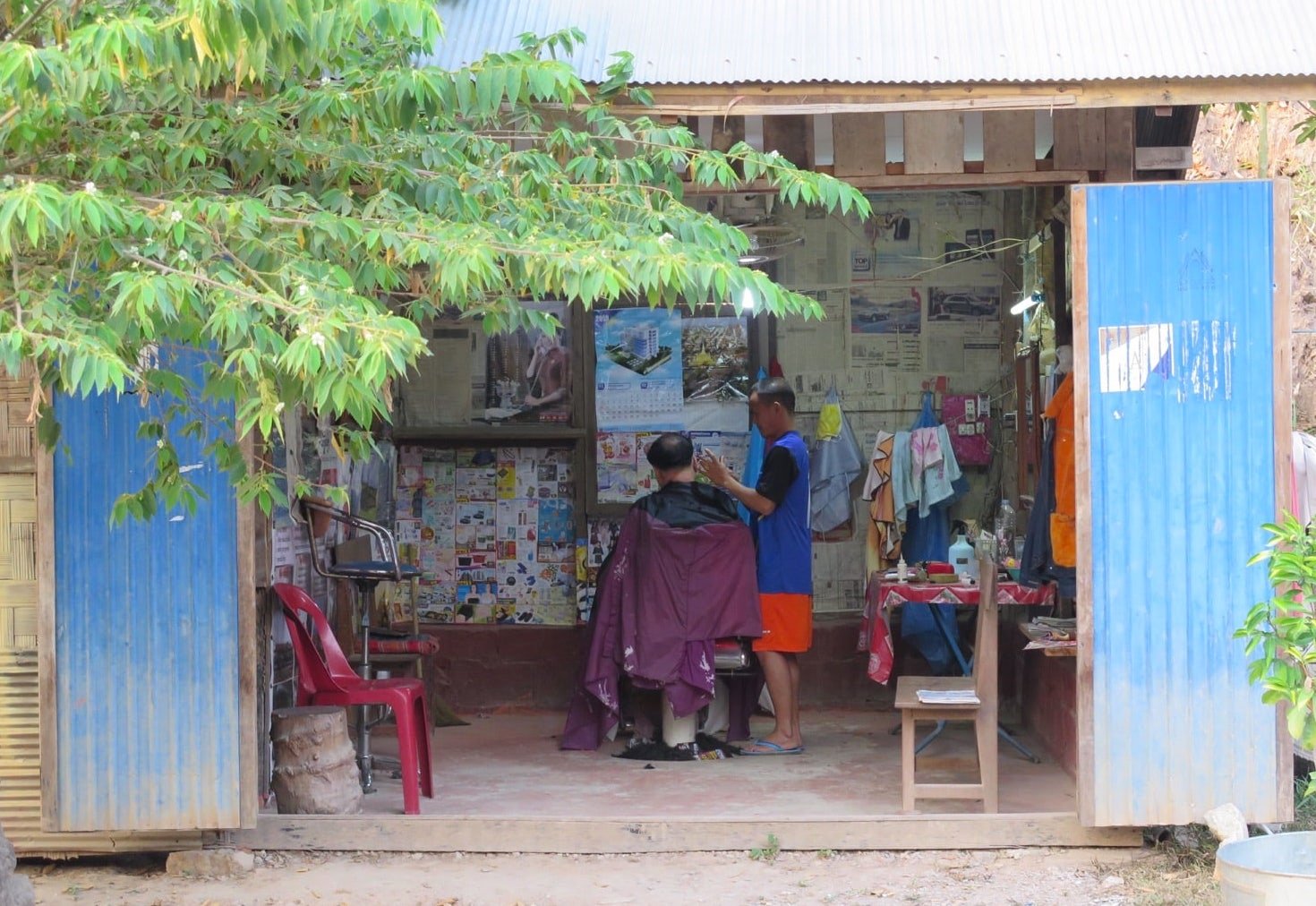 The barber always knows stories about other guesthouses, or about tourists. I often go there just to hear that and collect good ideas… or funny tales.
Generally, in the afternoon I always find something to do at the guesthouse, something to fix or to improve. It's our little treasure so we dedicate a lot of time to it 🙂
At 4 pm it's bath time. Unfortunately, we don't have a real shower, like the one we offer to our guests. We bath in big buckets with cold water and soap.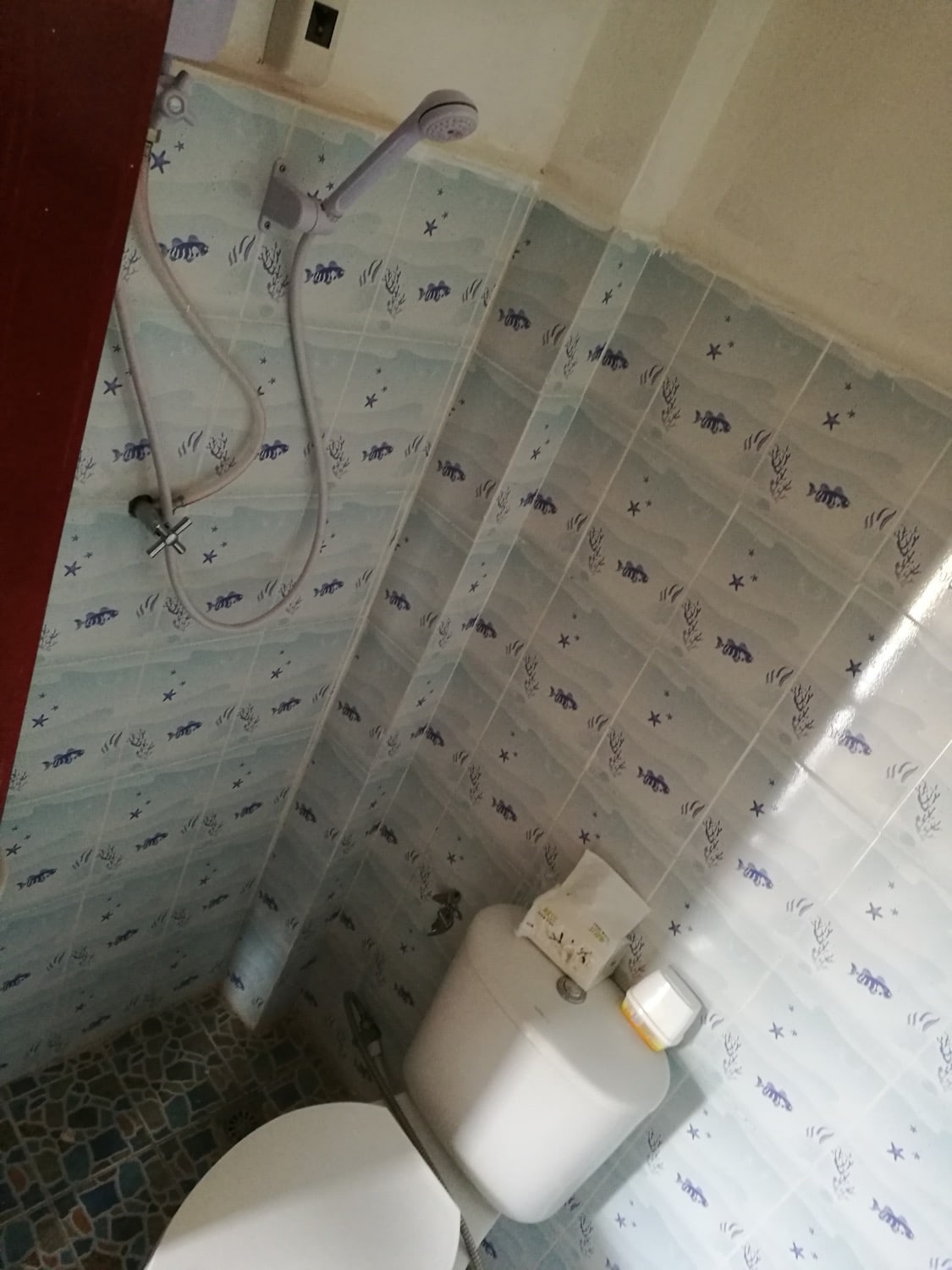 After a working day, I want to be decent and scented to welcome you, my dear guests!
I take my guesthouse's board, start the scooter and run down to the pier. I see the boat arriving, perfectly on time. While waiting, I always try to guess how many new guests I can convince this time and with which strategy.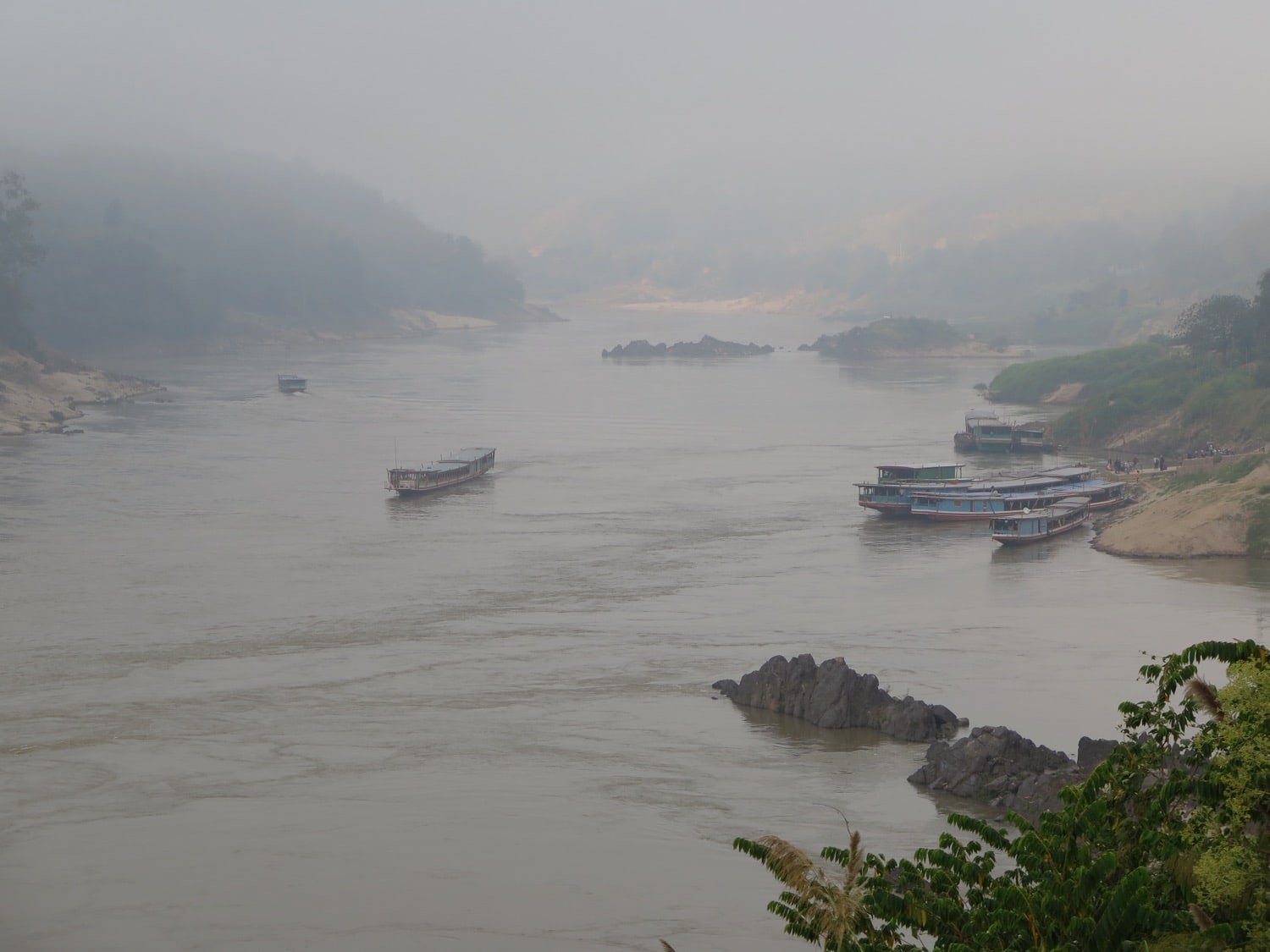 The competition is very high. There are dozens of guesthouses in Pakbeng, and they are almost never fully booked.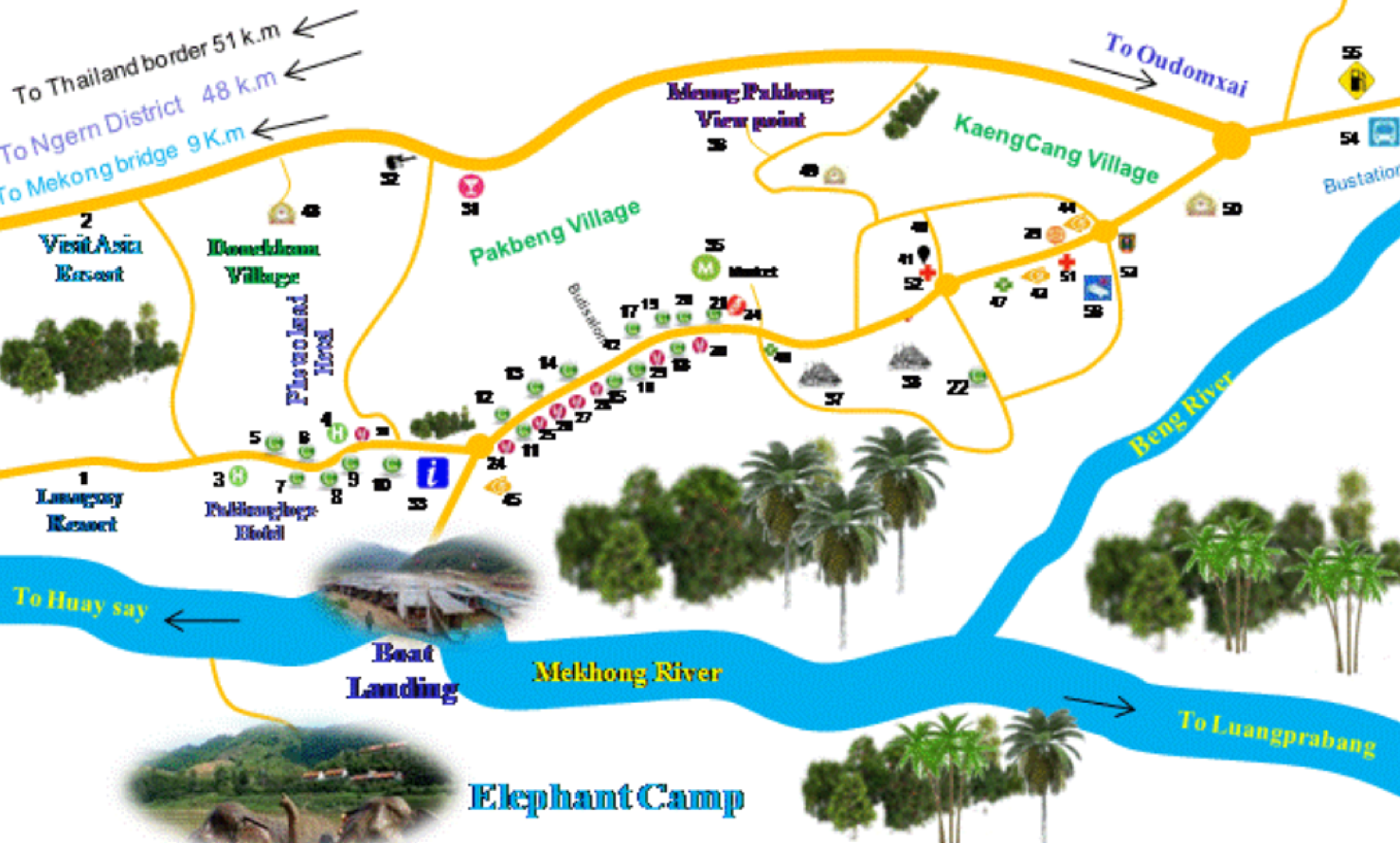 There are actually more empty rooms than tourists. But it is a great business for us… because it is our own house, and it is our main source of income.
If I may give you a suggestion, I would like to advise you not to stay in a guesthouse right at the pier. That's the busiest and more expensive part of the village. If you walk a few hundreds of meters further, you can find friendly hosts offering cheap rooms with a nice 180° view on the Mekong.

Don't you want to enjoy this sunset from your balcony? I love to do it!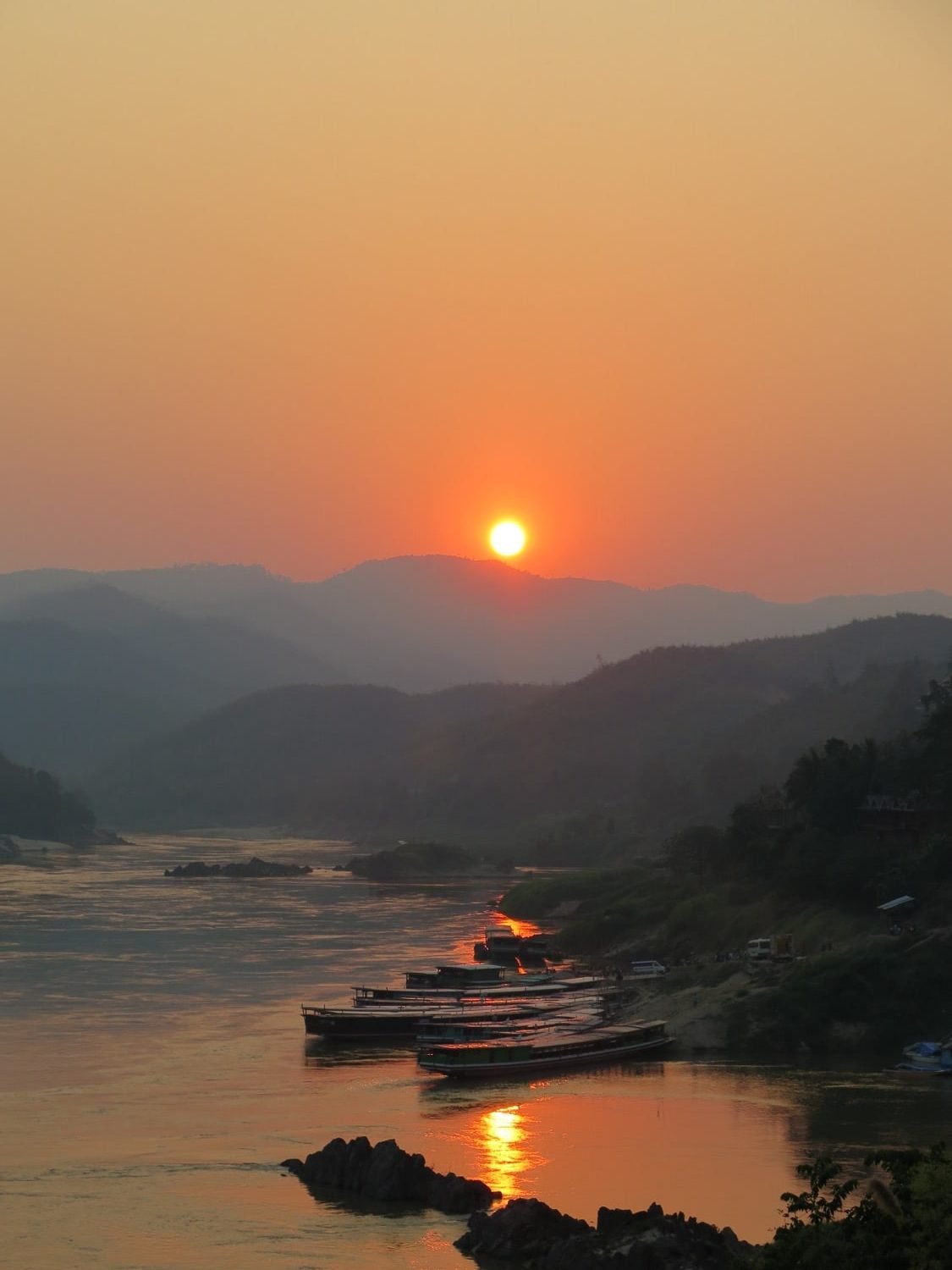 Well, it's 5.30 pm. Today, other 2 slow boats arrived with dozen of tourists. We "fought" to get new guests without reservation, and I successfully convinced 4. I am proud of my job!
For all the other tourists, I wish you a safe trip to your hotels or guesthouses and I hope you will enjoy these few hours in our little village.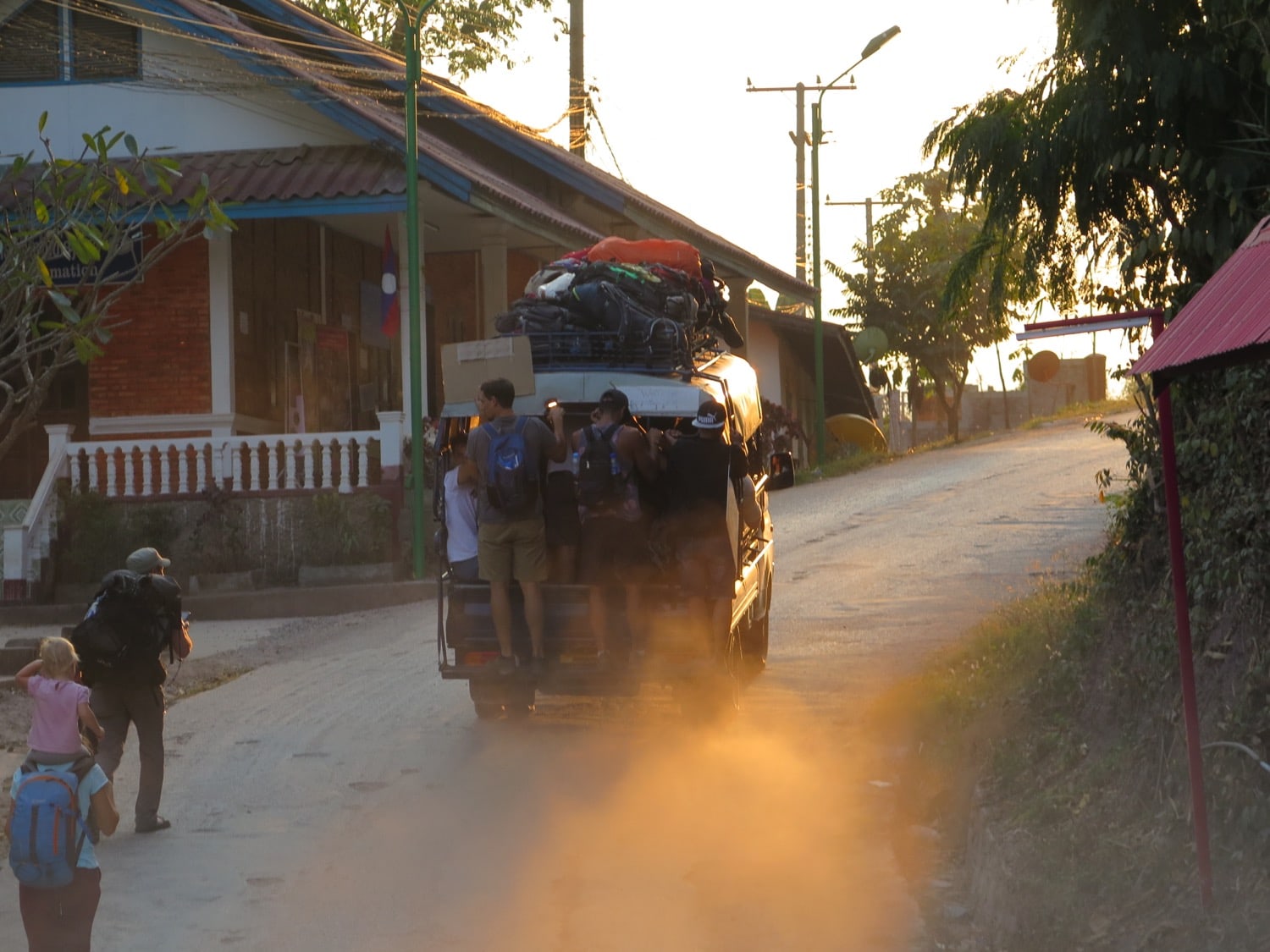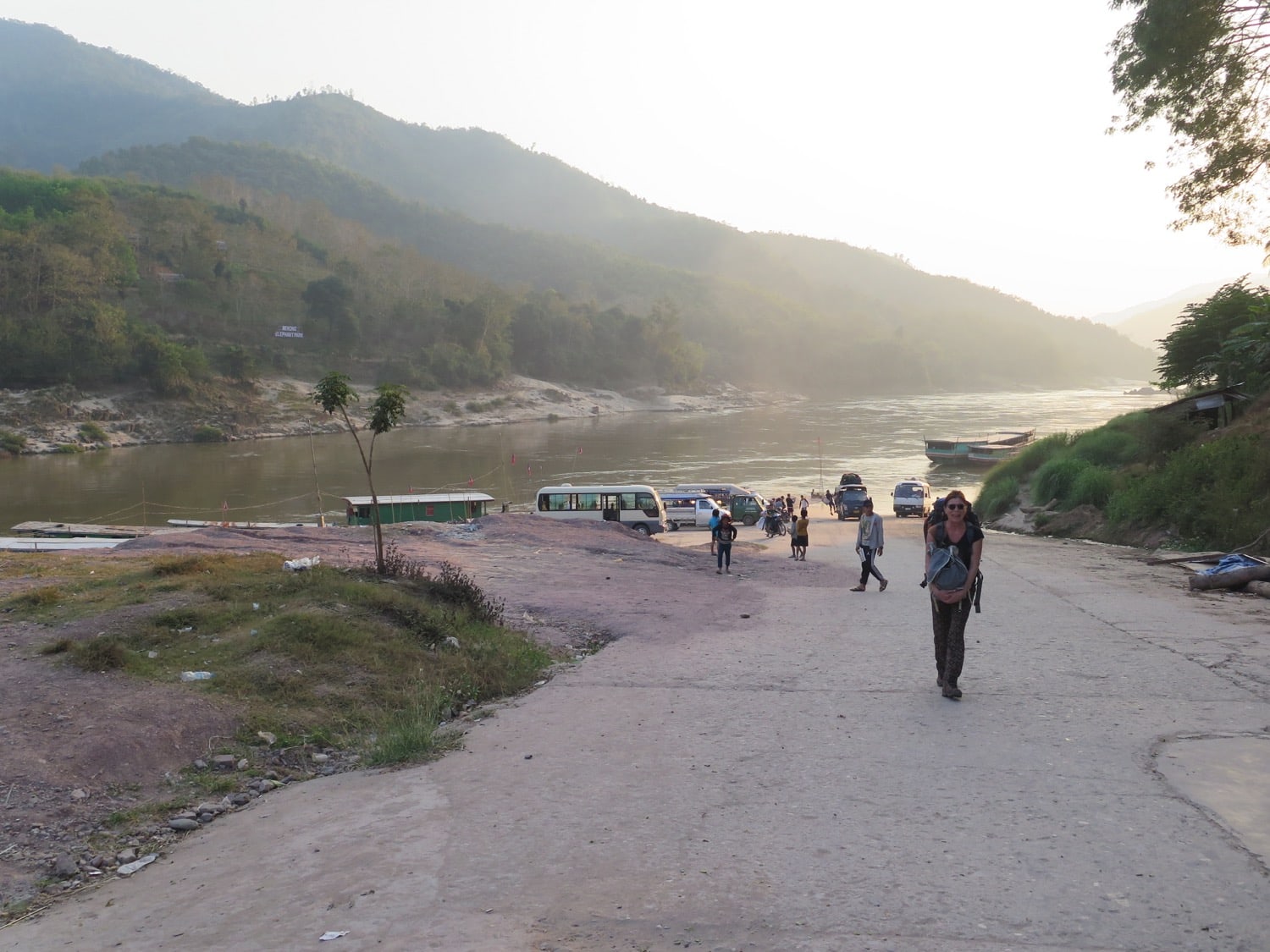 From now till tomorrow morning at 9 am, Pakbeng will be a busy and lively village. Restaurants are full of beautiful people who now decided to visit our country instead of others.
Thank you, dear tourists, for your visit, and hope to see you again in the future.
Oh, by the way… this is me 🙂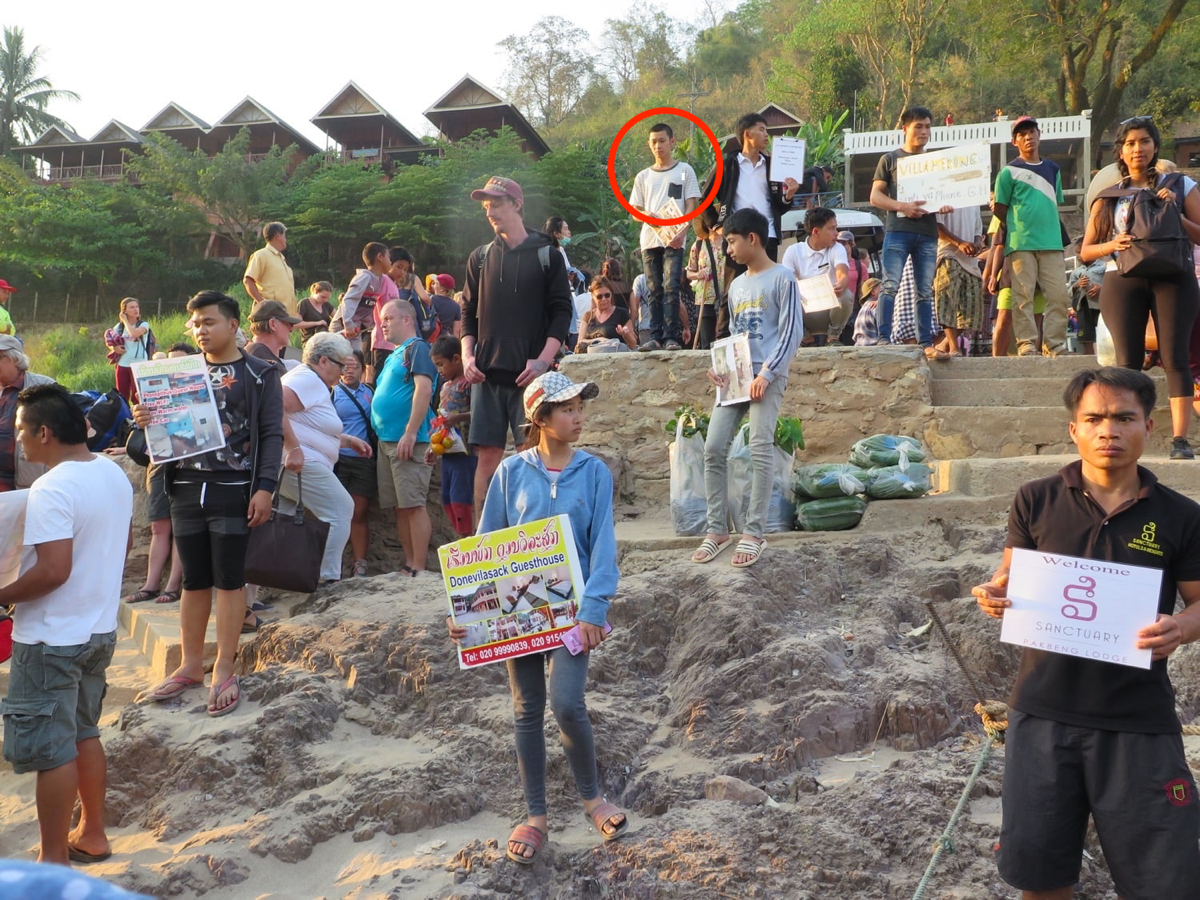 PS: this is a real story, we met this wonderful guy who told us about his daily life in Pakbeng, about his emotions and about the impact of tourism.