Ao Nang Beach is one of the top destinations in the Krabi province.

It offers a vast range of accommodations and every service that a person may want to find on holidays. There are unexpectedly lots of pharmacies, emergencies and tour organizers.
It is a perfect relaxing holiday location. But if you want something more traditional and authentic… hey, you are in the wrong place!
Here below you will find a (personal) list of things you cope with when you are staying in Ao Nang Beach but, in reality, you were looking for a more "alternative" holiday.
Accommodation
It can be quite challenging when you arrive in a new location and:
you don't have any hotel reservation
it rains hard
it is 36°C in the shade
you carry your 7-kg backpack since hours
you have a limited budget
there is the Chinese New Year going on
We started our Ao Nang accommodation's research from the inland, as we thought it was easier to find an affordable room. Nope!
Due to the peak season, there was no availability in budget hotels, no availability in hostels and even not in luxury hotels. We finally found 1 room available in a hotel located along the main road: a very small room without any comfort, quite old and without breakfast, for 1600 THB (approx US$ 51) per night. We asked for a discount but the receptionist said: "no can not". We then decided to let it go, and continue our search.
Slowly we reached the beach. When the hope was almost lost, we walked in front of a beautiful resort called "L resort", with a luxurious reception. We asked the staff: "you don't have rooms available, do you?". Surprisingly, they said, "yes we do"! They offered us the last non-renovated bungalow which wasn't advertised online, for a good price (approx. US$ 60 per night), including all the facilities (2 swimming pools, gym, complimentary tea and coffee in the room, toiletries, etc) and including buffet breakfast. Wow!
What a relief to take a bath in that swimming pool: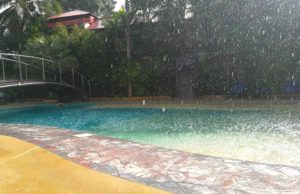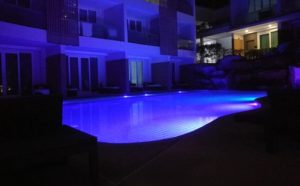 Never give up and follow your instinct! In case of doubts, follow the instructions listed in our other post...
Beaches
Compared to Koh Samui, Ao Nang Beach is much cleaner. The sea is warm and calm.

On the second day in Ao Nang, I really wanted to take a bath in the sea. We looked for a not crowded spot, we were actually by ourselves. I entered the sea and felt a pain in my feet… I ran out of the water, I checked and found 5-6 black spines in it: I stepped on a sea urchin!
Back in the room, we prepared the "surgery kit": 1 needle (from the hotel's sewing kit), 1 tweezer and some disinfectant. It took a while, but we could manage to take out all spines.
Despite this event, we enjoyed daily walks on the beach trying to understand who creates those cute little sand-balls.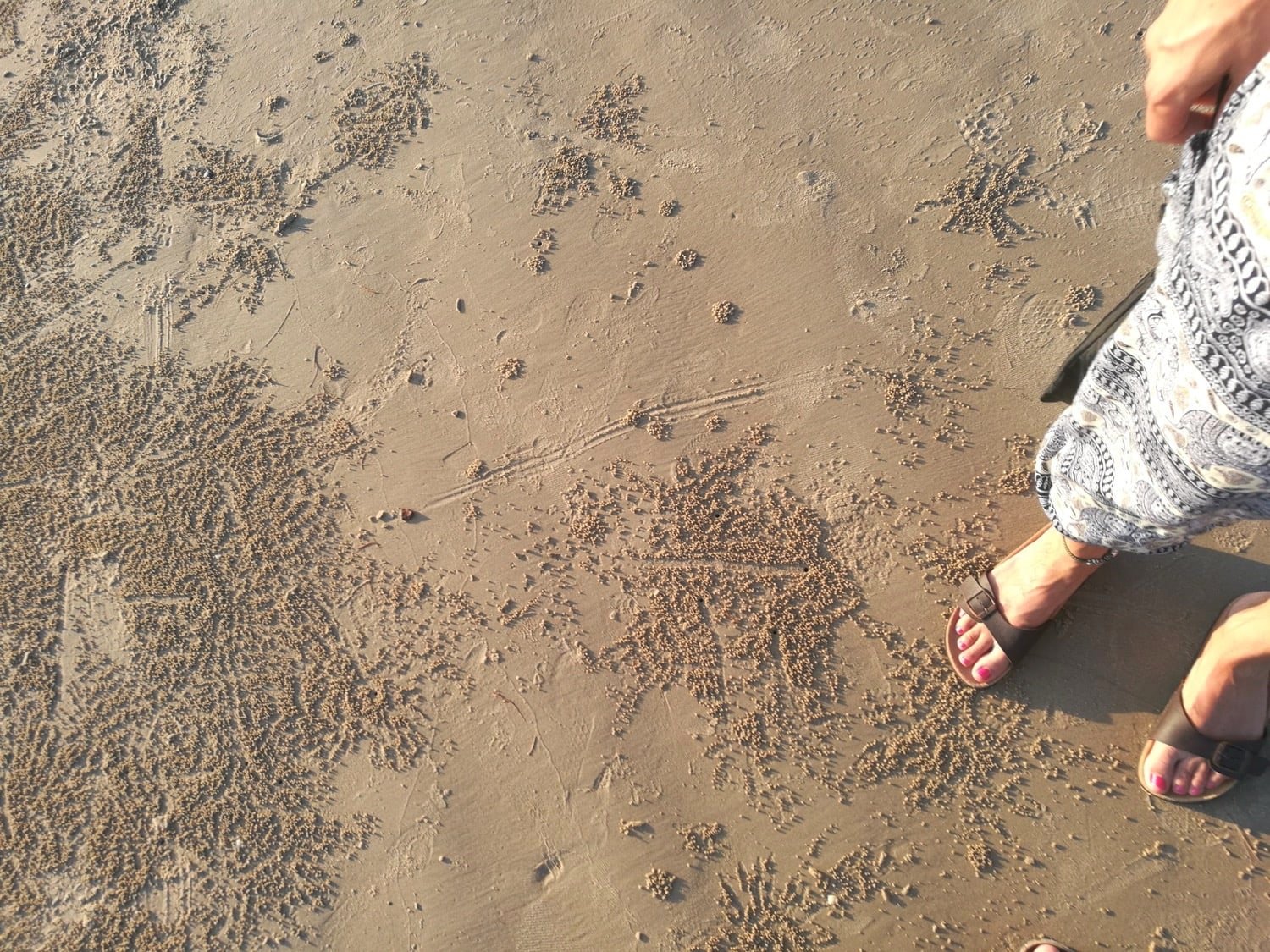 We found out that it is the "sand bubbler crab".
Last but not least, it is important to remember the terrible Tsunami that hit (among other countries) this side of Thailand in 2004. One of the involved areas was Ao Nang. I tried to imagine myself sitting on the beach, on a calm day, and see this huge wave coming towards the land, so powerful, so strong. Unbelievable.
Fortunately, now they are better organized in case of alarm. And along the beach, there are signs explaining what to do in case of a Tsunami emergency.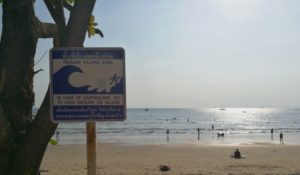 Food
I don't have to say that in this area, in this period, restaurants' prices are sky-high. You can anyway find family owned little spots where you eat well and you don't over-pay.
A must-see place is the Street Food Market. It's an area filled with fully equipped and colourful booths, selling tasty and cheap meals. Mainly, it is about barbequed fish and other Thai specialities. But you don't want to see kitchens or how dishes and cutlery are washed…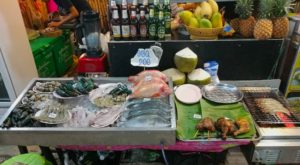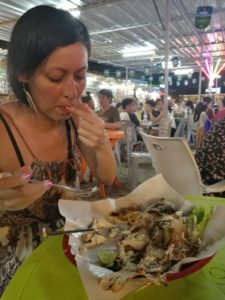 But it is really worth it!
It is colourful, there is a nice and authentic atmosphere. Full of smoke, exotic scents and happy people. While you are having dinner, you can even enjoy a kids' traditional dance spectacle.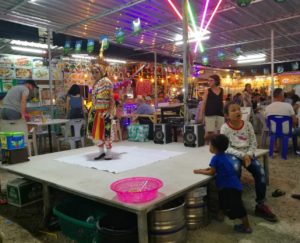 A couple of times we went to a Hare Krishna restaurant, offering a 100% vegetarian menu. You need to leave your shoes outside and walk around bare feet, they have a choice of buffet or à la carte meals. Not too bad as an alternative to Thai food. The atmosphere is lovely and gives positive vibes.
After a good dinner, you want to eat a good dessert… which is not always "sticky rice with mango".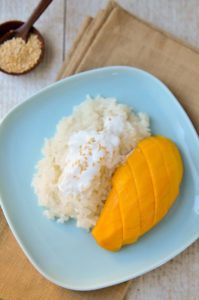 We discovered these fantastic booths preparing ice cream rolls! You can choose the flavour, and the guy will create it for you on his frozen plate. First, he puts all the ingredients (melted ice cream and the chosen flavour/fruit) on the frozen plate. Then he chops them with 2 spatulas, with really fast movements. When everything is well mixed, the magic happens and you get your ice cream rolls!
Transportation
The area is full of local travel agencies arranging mainly the same tours: to the closest islands, to the Cobra shows, diving, hiking and much more. They also offer transportation to Krabi airport. We noticed that the charged price was always the same: 600 THB for a taxi, 150 THB for a shared van, 150 THB for a bus. We have been told that the government established the price, so no one can change it and it is non-negotiable.
Despite all, Ao Nang is full of tuk tuk and songthaews (red cars). If you don't need to go too far you can travel with them for a negotiable good price. Just stop them on the road, explain where you have to go, negotiate the price, and jump in!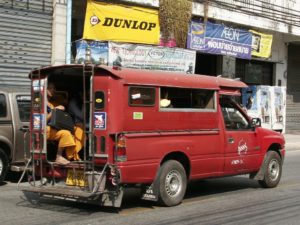 Railay Beach
The only way to reach Railay Beach is by longtail boat.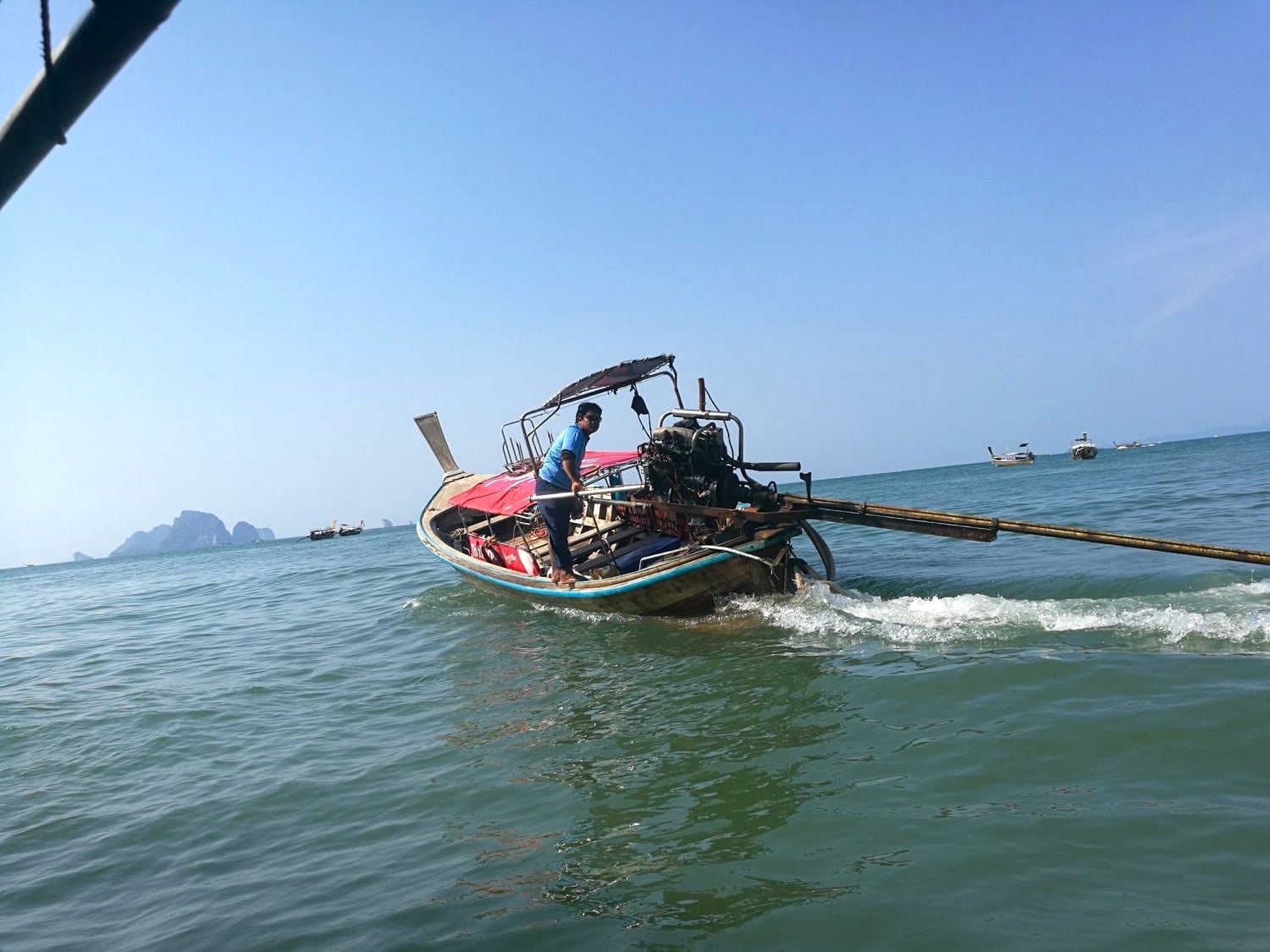 There is no time schedule, each boat leaves only when there are 8 people onboard. You can easily wait for your fellow travellers on the beach. When they leave, those boats are super noisy and the engine's smell is strong. But it is a nice experience and sometimes it becomes a kind of competition with other longtail boats: which one will arrive first? The drivers live on the boats, you can see their hammocks hanging on the roof and sometimes you can see them sleeping there.
The beach is beautiful in the morning but changes completely in the afternoon due to the tide. It becomes never-ending.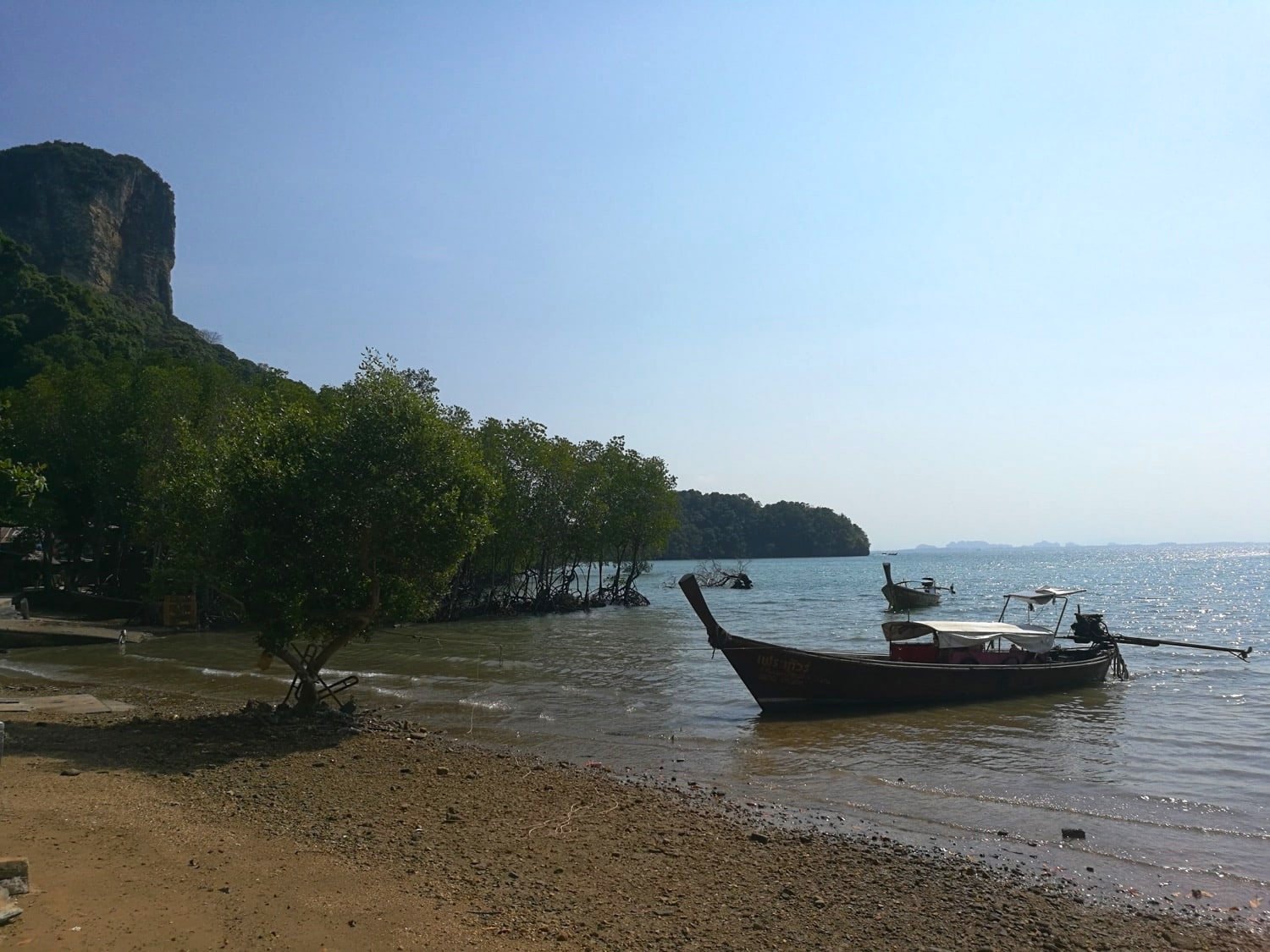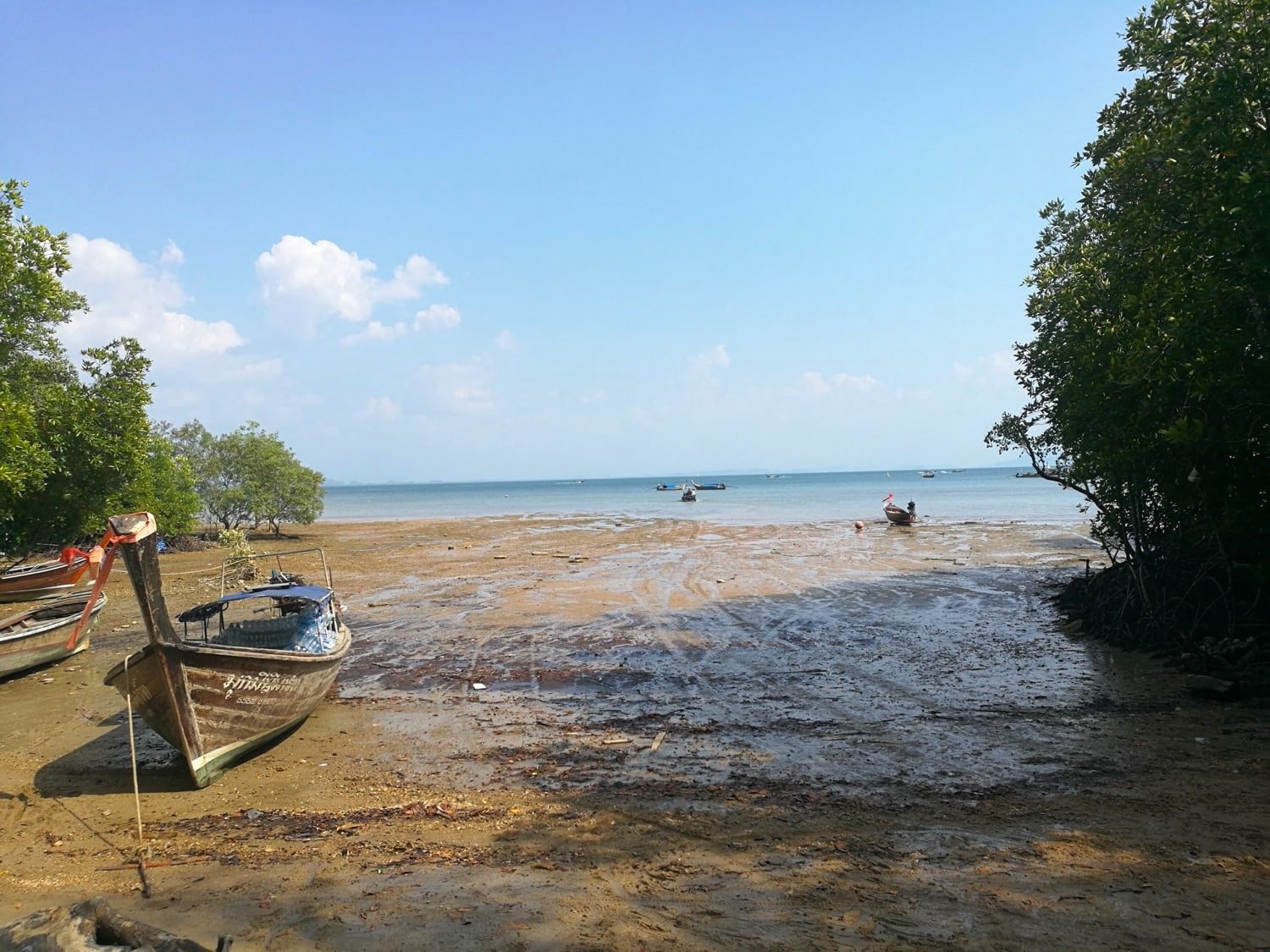 All the area is not accessible by car, you will find only a few motorbikes or tractors used for heavy transportation. You can walk around without caring too much, the air is cleaner, the atmosphere is relaxing, there are many mangroves, you can enjoy a wonderful climbing landscape, and monkeys…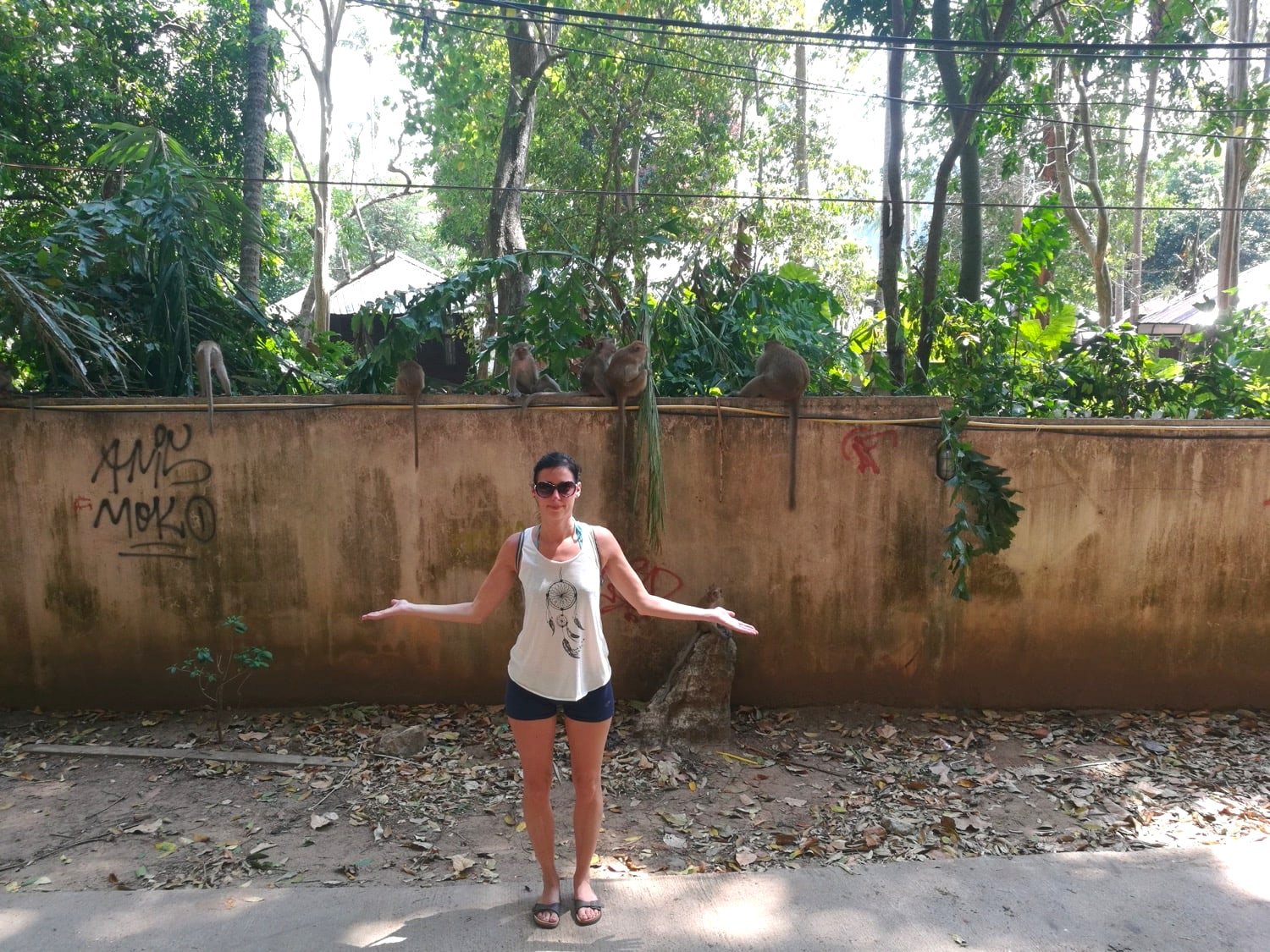 It is a pity that it became so touristic. It used to be a backpacker destination, but now it offers also several luxurious accommodations.
In the morning there are hundreds of people arriving there and, at the end of the day, hundreds of people leaving (some even with suitcases…).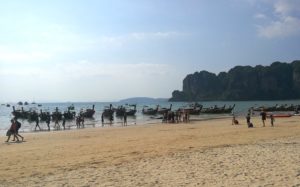 Back to Ao Nang… Animals
It seems that every hotel, restaurant or shop has its own cat. They are cute, well-taken care by their hosts and always looking for a cuddle.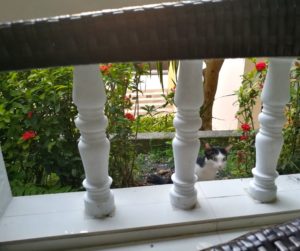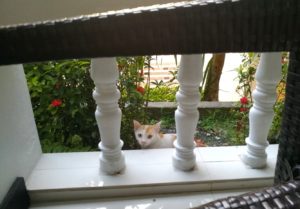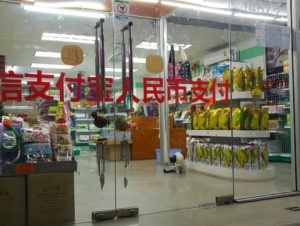 Dogs are also maintained by the population, but they don't have a real owner. They go around in groups, they are sweet, never bark and they like to sleep on the beach. It is unbelievable to see how they are careful and at attention when they have to cross the road!

Unfortunately, after all this fluffiness, you also happen to find this 5-cm guy in your shower!

Fire show
It is really impressive and fascinating! The only downside is the smell of fuel that invades the air all around… but the ability of those guys overcomes it and makes this moment really magic.
ขอบคุณ (thank you)

After 8 days of sun, pool, beach, flip flop and bathing suit, it's time to wear back our snickers a leave for our next destination! Talk to you soon 🙂