My longest trip was the one in Cost Rica which lasted 1 month. I could easily follow a general female packing list and prepare a light backpack without missing anything in particular.
Now I am about to spend at least 5-6 months in South East Asia with hand-luggage only (7kg), so I had to think about a female packing checklist: what it's really necessary to pack, and what it's useless (or can be bought later, if needed).
Female packing list
Let's discover it, step-by-step.l
A long trip doesn't imply big luggage. On the contrary!
Can I live for a half year without beauty products, a vast choice of clothes, multiple pairs of shoes, or all kind of comforts? Yes, I can. It has been hard, but I managed to find a balance and a compromise to reduce my belongings!
So far so good, but after the trip, I will let you know if my luggage was perfect or if there can be room for improvement.
One of the smartest advice I found is to think that you have to carry that luggage for the entire period, so consider taking only half of what you planned to bring with you. Travelling light will enhance your experience and make your trip more comfortable. This is what I did.
Of course, there might be little differences between a male and female packing list: usually, we need more fashionable and comfy items, and they may need more technological items. But in the end the backpack's weight has to be the same, namely, it does not have to exceed 7 kg!
I looked at several blogs and forums, read many backpacker's experiences, depicted the pros and cons, and finally styled my own checklist.
But, first things first. Let's start with the bag.
As roads in SE Asia are often not paved, trolleys' wheels would get stuck in the dirt so it is strongly advised to choose a comfortable large backpack. I personally have a 36L Osprey Sirrus. In addition to that, I also have a smaller and lighter backpack for daily use, in order to be able to always bring with me all my personal belongings.
I divided my items into plastic bags, as follows:
Clothes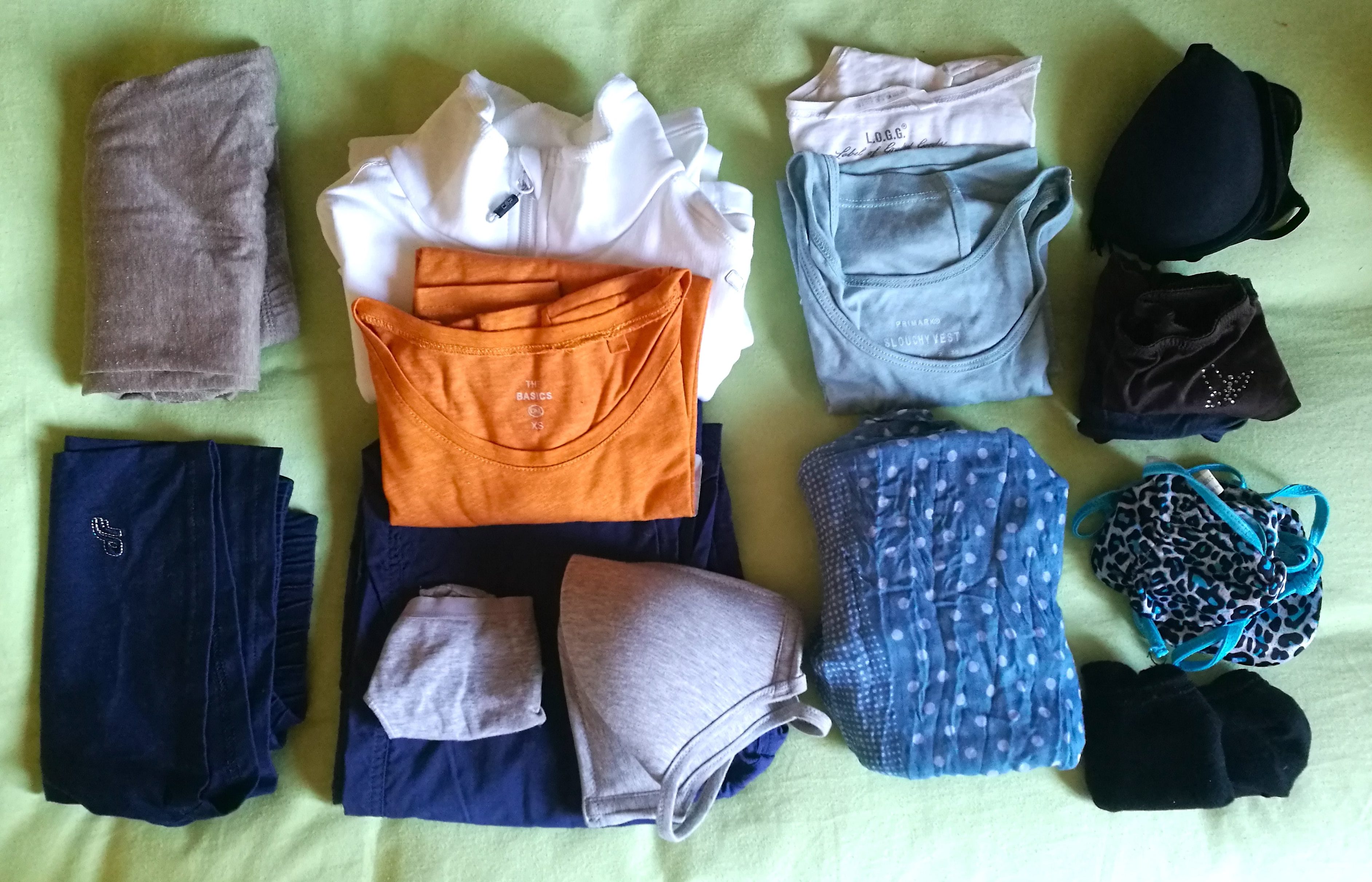 Technology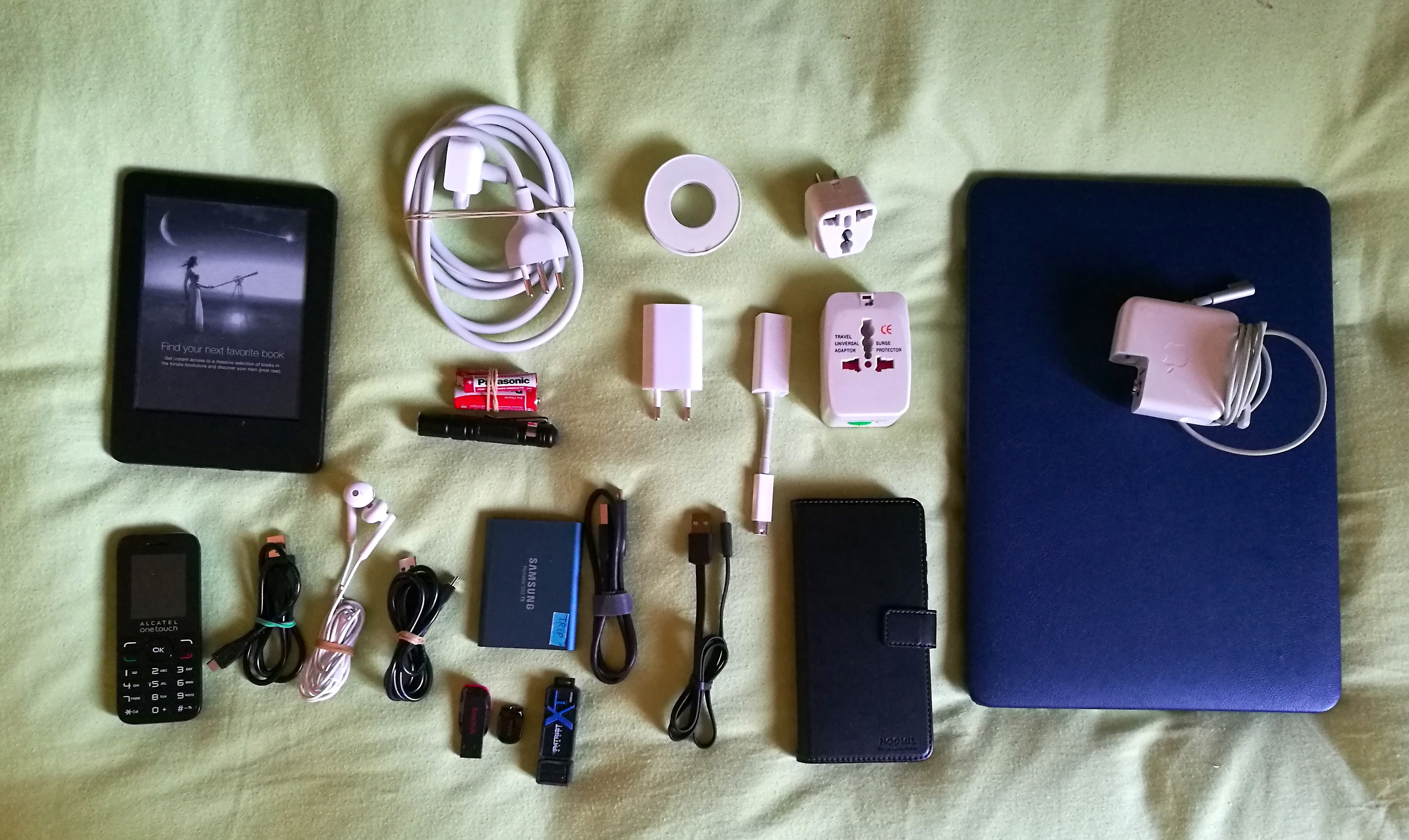 Pharmacy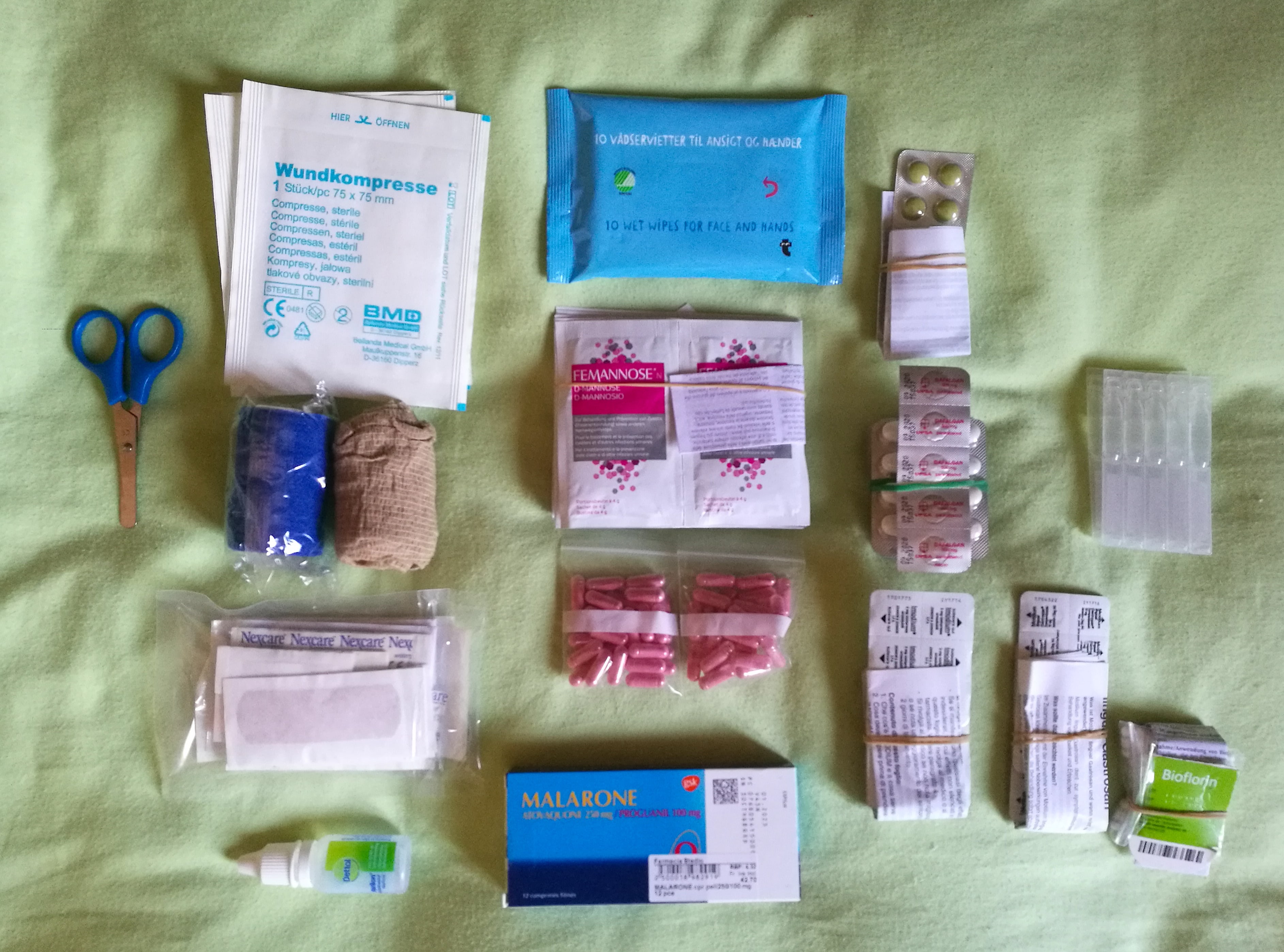 Toiletries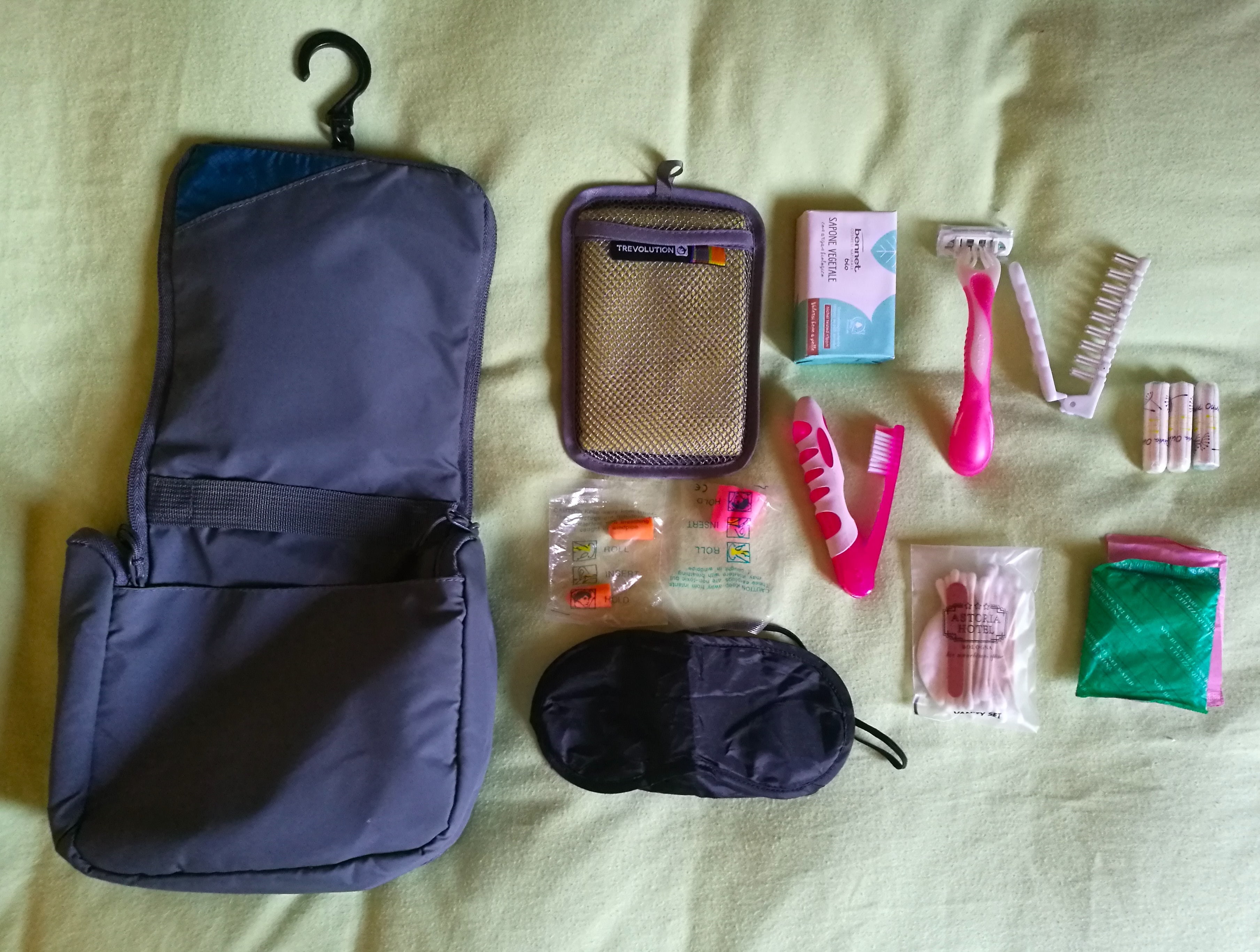 Various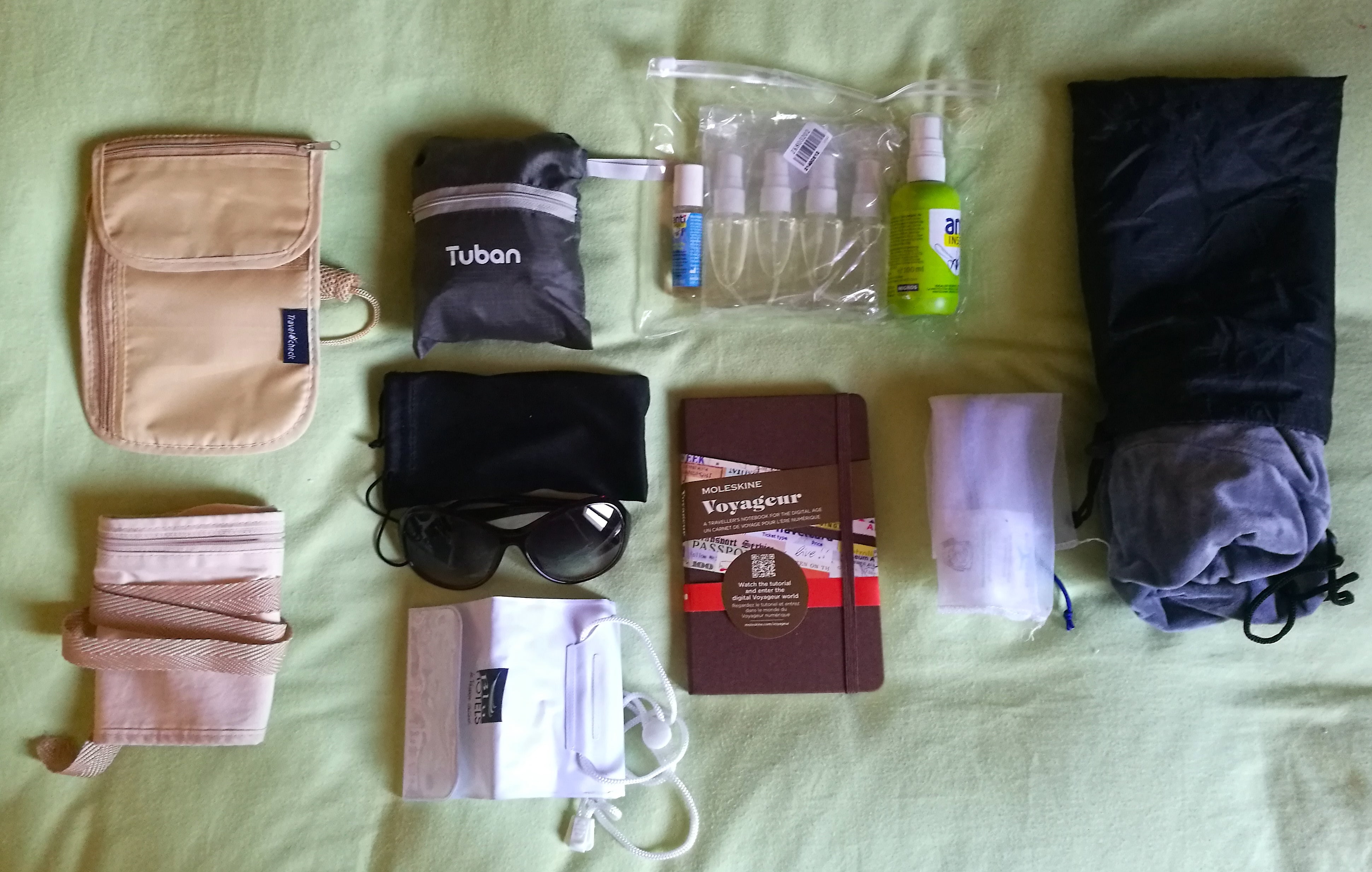 Here below you will find my own detailed packing checklist:
Clothes and shoes (in addition to what I already wear)

To save weight, I will not bring many clothes. SE Asia is also known for its cheap prices, so I will buy some clothes and shoes once I will be there. Clothes should be in cotton and light coloured to avoid mosquitos.
– 2 t-shirts ( 1 short-sleeves and 1 long-sleeves)

– 1 tank top
– 2 pants (1 short and 1 long)
– 5 cotton underwear
– 3 pairs of socks (1 long and 2 short)
– 1 swimsuit
– rain jacket (better if it is also windbreaker and thermal)

– pair of running shoes (I will buy flip flop in Asia)
Accessories

No makeup nor jewellery. Humidity is not ideal for makeup, and it is not really advised to go around there with jewels or flashy stuff. In case I feel I miss them, I will buy them on spot.

– baseball hat (white and in cotton)

– sunglasses
– cotton scarf
– quick dry travel towel (it seems that not all accommodations provide towels)

– ear plugs + eye mask

– travel pillow (H shape is highly recommended)

– paper + pen
– laundry bag
– padlock (to lock your luggage, but also lockers)

Toiletries

Actually, you could buy everything on spot. To make it easier, I will bring a bit of what I could urgently need, and I will buy all the rest on spot. For instance, I read that it can be difficult to find tampons there, so I added them to my packing list.
– hanging toiletry bag (very handy in shared or not very clean bathrooms)
– toothbrush
– small soap
– razor
– tweezers
– nail clippers
– hairbrush + hair accessories

– tampons
Medical kit

It is better to bring every medicament from home, even if it seems not difficult to find all kind of them in SE Asia, too. Therefore, in case you need prescriptions, talk to your doctor well in advance.
– plasters (different sizes + some water resistant)

– bandages (self-adherent cohesive)

– sterilized gauzes
– paracetamol (do NOT take aspirin or ibuprofen, as they can be dangerous in case of dengue fever because are blood-thinning)
– disinfectant (due to the high humidity, it is easier to get wounds infected)

– anti-diarrhoea tablets
– cranberries pills for urinary infections
– anti-malaria tablets
– gastrointestinal disorders pills
– mosquito repellant (it should be very strong!!)

Technology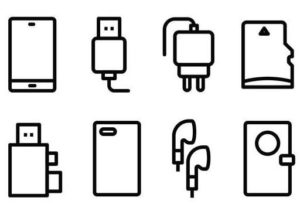 All items neatly concealed in one unique organizer.
– laptop + charger

– mobile phone + charger
– kindle + charger
– USB sticks (2 or 3 with different sizes)

– external storage disk (500 MB)

– headphones

– small torch
– various USB cables
Documents

All documents are neatly concealed in one unique organizer.
– passport
– passport copies (placed in different locations)

– credit, debit and pre-paid cards
– some cash (US$ should be better, as many visas need to be paid in that currency)

– copies of health and travel insurances (clear declaration that you are fully insured)

– international driving licence
– passport-size photos (useful for visa applications, or in case you loose passport or other documents)

– vaccination certification copy
– paper with emergency numbers (local police, but also personal health insurance, bank, etc.)
– flight ticket
All together, I have 7,5 kg in total, including the backpack.
I am really glad I will be able to travel light, and I am looking forward to exploring these wonderful places. So far, I only heard nice stories from people who went there but I want to have my own story to tell you!
I will keep you posted 🙂